Coming soon—Survey results about DATA!
Posted by Ann Glusker on December 13th, 2017 Posted in: Data Science, News From NNLM PNR
Tags: data survey, needs assessment
---
You may remember the email and picture below, which was sent out to various groups and promoted in various ways this past spring.  In it, we were asking you all to participate in the NNLM-PNR data needs assessment survey.  By doing the survey, Annie Madhavan and I (Ann Glusker) were hoping to get feedback on the directions you want us to go with teaching about and providing resources related to data.
Well, we had 60 people respond, which we are thrilled about, and we ended up sending out 14 fabulous prizes (the NLM tape measures shown in the photo–woo hoo!).  More importantly, we've completed the data analysis, got some VERY helpful information, and are putting the final touches on the report we promised! (a little later than we'd hoped, but better late than never?)
So, we just wanted to let you know that the report will be sent out to the HLIB-NW list in early January, as well as to all the people whose emails we have and/or who ask for a copy, with our best wishes for a very happy New Year.  See you online again soon!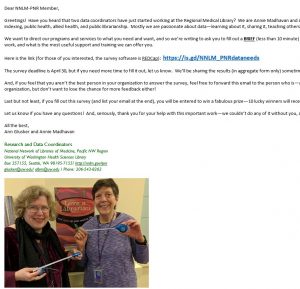 ABOUT Ann Glusker
Email author View all posts by Ann Glusker