DataFlash: New Webinar on Sharing, Discovering, and Citing COVID-19 Data and Code in Generalist Repositories
Posted by Nancy Shin on April 21st, 2020 Posted in: Blog, Data Science, Emergency Preparedness, News from NLM, Public Health, Training & Education
Tags: COVID-19, nih, nlm, webinar
---
The National Library of Medicine (NLM) at the National Institutes of Health is hosting a free webinar for researchers to learn how to share, discover, and cite COVID-19 data and code in generalist repositories on Friday, April 24 from 11:00 a.m. – 12:45 p.m. PT.
The biomedical research community's understanding of the novel coronavirus and the associated coronavirus disease (COVID-19) is rapidly evolving. Open science and the timely sharing of research data have played a critical role in advancing our understanding of COVID-19 and accelerating the pace of discovery.
Researchers will have an opportunity to hear from multiple generalist repositories about the ways each repository is supporting discoverability and reusability of COVID-19 data and associated code. The NLM will also provide an overview of available COVID-19 literature.
The webinar will be available via NIH VideoCast.
Instructions on submitting questions will be made available closer to the webinar. Interested participants are encouraged to bookmark this page for the latest updates and follow #NIHdata on Twitter.  The webinar will be recorded and available a week after the live event.
See the agenda on the ODSS website.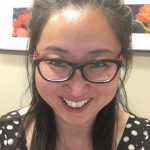 ABOUT Nancy Shin
I received my Bachelor of Science in the Integrated Sciences majoring in medical genetics and animal biology from the University of British Columbia (UBC). I also graduated from UBC's esteemed MLIS program with a focus on health librarianship. In 2018, I was the Research Data Management Sewell Fund Fellow for the Technology Incubator at Washington State University. Currently, I'm the NNLM Region 5's Outreach and Data Coordinator for the University of Washington's Health Sciences Library. In my spare time, I enjoy photography, drawing, cooking and baking, and travelling the world!!!
Email author View all posts by Nancy Shin