Hospital Library Panel Focuses on Advocacy and Flexibility
Posted by Carolyn Martin on January 13th, 2022 Posted in: News from Network Members
Tags: hospital librarians, hospital libraries, librarian roles, medical librarian
---
We're delighted to have this guest post from NNLM member, Andrea Ball, Research & Education Librarian at MultiCare Health System in Tacoma, WA. 
The virtual Pacific Northwest Chapter of the Medical Library Association (PNC/MLA) Conference, held this past November, included a one-hour panel presentation titled "The Future is Now: Hospital Librarians and the New Normal Moving Forward" and was very well received. The panel consisted of Ellen Aaronson, MLS, AHIP with the Mayo Clinic Libraries, Brian Baker, MLS, JD from Valley Children's Hospital in California, and Kathryn Vela, MLIS with St. Luke's Health System in Boise. I served as moderator and am with the MultiCare Health System in Tacoma. Ellen is the current Chair of the MLA's Hospital Library Caucus (HLC) and Brian in the Chair-Elect. Both Kathryn and I are on the HLC Board.
If the pandemic has taught hospital librarians anything, the panel agreed, it is that we need to be flexible and to be able – and ready – to reinvent ourselves whether this involves harnessing technology to deliver services remotely or partnering with new entities in our organizations and communities. Staffing, maintaining and retaining libraries were also considered important for the future, along with the need to look at physical space in light of increasing reliance on electronic resources. Finally, the need to continuously keep ourselves relevant to our organizations was on everyone's minds.
Ellen took a moment to talk about the work the HLC has been doing regarding advocacy and support for new librarians. Kris Alpi, current MLA President, also commented on the organization's work on advocacy efforts in support of hospital librarians.
If you are interested in a copy of the transcript of the panel discussion, please contact me at ABall1017@gmail.com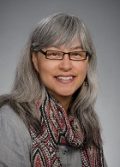 ABOUT Carolyn Martin
Carolyn Martin is the Outreach and Education Coordinator for the NNLM Region 5. She works with various libraries and community organizations to increase health literacy in their communities.
Email author View all posts by Carolyn Martin