See you at ARSL!
Posted by Carolyn Martin on October 18th, 2021 Posted in: Consumer Health, Education, Health Literacy, New from NNLM Region 5, Public Libraries
Tags: conference, consumer health, health literacy, NNLM Region 5, professional development, Virtual Conference
---
The Network of the National Library of Medicine (NNLM) will be at the annual ARSL (Association for Rural & Small Libraries) conference in Reno/Sparks Nevada.
Stop by the NNLM exhibit both, both in-person and virtually. It's an opportunity to learn more about the freely available classes, funding, membership, and more. Learn more about health information resources and services to offer your communities to become better informed health consumers.
We have a session at the in-person conference. Attend the session, "I'm Not a Doctor": Ethics and Best Practices in Health Reference, on Friday, October 22 at 11:00 a.m. to gain some tips to provide basic knowledge and improve your ability to conduct a health reference interview confidently and ethically at your library. Through discussion and role-playing activities attendees will come away equipped to address health-related questions through knowledge of authoritative health information resources, clarify the difference between providing health information versus medical advice, and tips for maintaining patron confidentiality and privacy.
Outreach and Access Coordinator, Emily Hamstra, will present Spark Talk, Finding and Using County Health Data to Inform Programming, Collections & Services, virtually. Resources for locating health data on your community will be presented, leaving you with fodder for generating ideas for programming, collections, and services to offer at your library.
Looking for ways to engage your community around health and digital literacy? Attend the virtual session, Health Literacy Possibilities @ Your Library, to learn how NNLM and All of Us are working together to support health and digital literacy initiatives at public libraries. Participants will learn about free resources from the National Library of Medicine as well as funding and programming opportunities for small and rural libraries.
We'd also like to offer those who are attending in-person the opportunity to meet with us during the conference. It's a chance to learn about your health information work, ask questions, or just get acquainted.  Email us at nnlm@uw.edu
We're excited to be part of the conference and are looking forward to meeting you virtually or in-person. Safe travels.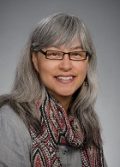 ABOUT Carolyn Martin
Carolyn Martin is the Outreach and Education Coordinator for the NNLM Region 5. She works with various libraries and community organizations to increase health literacy in their communities.
Email author View all posts by Carolyn Martin