National Preparedness Month: Resources You Can Use
Posted by Sarah Levin-Lederer on September 14th, 2018 Posted in: Public Health
Tags: community engagement, Emergency Preparedness (EPP), Public Health, public safety
---
September is National Preparedness Month and there's still time to make and practice your plan, learn life saving skills, check your coverage and save for an emergency.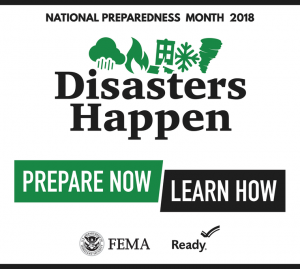 Week 1's theme was Make and Practice Your Plan
No one knows when an emergency will happen, but making and practicing your plan now will help you during and after.
Here are some planning resources to get you started:
Week 2's theme was Learn Life Saving Skills
Knowing basic first aid and other life skills means that you can help your family and community during an emergency.
Week 3's theme is Check Your Coverage
Week 4's theme is Save for an Emergency
And always make sure you're following trusted sources for resources and updates on social media to avoid scams and hoaxes.  On twitter, follow @nnlmner, @fema, @femaregion1 (New England), @nws, local news outlets, and local and state government accounts.
ABOUT Sarah Levin-Lederer
Email author View all posts by Sarah Levin-Lederer