Stay Safe In Severe Winter Weather
Posted by Sarah Levin-Lederer on January 18th, 2019 Posted in: Blog
Tags: Emergency Preparedness (EPP), MedlinePlus, public safety
---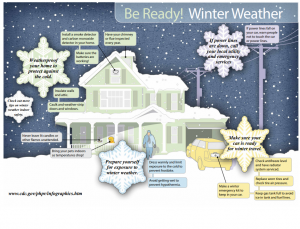 We're already several months into winter here in New England, but it's never too late to check your supplies or brush up on winter weather safety tips.
Cold weather can cause frostbite and hypothermia, as well as cause unsafe driving conditions, power failures, and house fires and carbon monoxide poisoning from space heaters and fireplaces.  Visit MedlinePlus's Winter Weather Emergencies page to learn more about these health and safety risks.
Here are some quick tips and resources to help you plan:
Stay safe if you go outside to work or play.
Dress warmly (in layers) and stay dry. Don't forget a hat, scarf and mittens.
If you go hiking, camping or skiing, make sure friends and family know where you'll be before you leave and when you plan to return.
Cold weather puts extra strain on your heart. If you have heart disease or high blood pressure, consult your doctor and follow their advice.  And everyone should work slowly and remember to take breaks.
Visit the CDC's Outdoor Safety During a Winter Storm page for more tips.
Stay safe inside if you have to shelter-in-place (stay inside for an extended amount of time) by making sure you have the supplies you need.
Don't forget the needs of pets and service animals when stocking supplies for the possibility of being snowed in.
Don't forget supplies for your car. Visit Ready.gov's Car Safety page for creating an emergency kit for your car and strategies to prepare your vehicle for emergencies.
Visit Ready.gov's Build a Kit page to learn about making shelter-in-place kits for your home.
Stay safe if the power goes off.
Candles and fireplaces can be fire risks. Make sure you have flashlights and batteries for light and plans to stay warm if the power goes out.
If you use a generator, make sure you pick the right one for your needs and make sure you place it away from doors, windows and vents. NEVER use a generator indoors.  Visit the Red Cross's Safe Generator Use page for more information.
Listen to local radio for shelters that may be opened in your community during extended power outages.
Visit the Red Cross's Power Outage Safety page for more tips.
And whenever possible, stay off the roads during winter storms to avoid dangerous driving conditions.
ABOUT Sarah Levin-Lederer
Email author View all posts by Sarah Levin-Lederer