Civics 101: Census
Posted by Sarah Levin-Lederer on May 18th, 2020 Posted in: Blog
Tags: community engagement, Data
---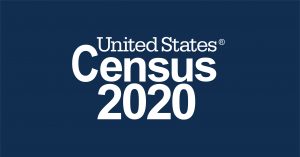 2020 is a Census year! For a lot of people, the Census is something they do every ten years and then they don't think about it again until it's time to fill out the survey again.  But for people who work in public policy, who are interested in politics or who work for local, state and federal agencies, the Census can be a big deal.
What is the Census and why do we do it?
Article 1 Section 2 of the US Constitution outlines the need to count everyone in the US every ten years to evenly distribute the members of the House of Representatives based on the population.
What does the Census tell us?
The Census looks to count everyone in the United States.  The basic Census survey asks questions about how many people and who lives in your household to collect basic demographic (sex, age, race) information.
Every year the Census Bureau also conducts Household Surveys that tell us more about things like health, housing, education and employment.  Households and businesses are randomly selected to participate in these additional surveys that give a snapshot on the US population.  Learn more about Household Surveys.
How does the Census affect the work we do at NNLM NER?
Many federal funds are allocated based on Census information including for social service programs, health related programs such as Medicaid, mental health services and even funds for local and state health departments.
Census data is also the basis for many health needs' assessments. Learn more about Using Census Data from the SCR Connections webinar held September 2018.
Census data is used to support your community, so help your community respond.
ABOUT Sarah Levin-Lederer
Email author View all posts by Sarah Levin-Lederer