My "Externship" Experience with the UMass Medical School Library and the NNLM NER
Posted by Susan Halpin on July 31st, 2020 Posted in: Blog, NLM Resources
Tags: externship, Girls Inc of Worcester
---
The following blog post was written by Regina Agyemang, a rising junior from the Abbey Kelly Foster Charter Public School in Worcester, Massachusetts. Regina is also member of the Girls Inc. of Worcester Eureka program. Regina spent the month of July working with the staff of the UMass Medical School Library and the NNLM NER.

This summer I was given the opportunity to work with the University of Massachusetts Medical School Library and the NNLM NER as an "extern" through the Girls Inc organization. Because of COVID this opportunity was conducted completely remotely. During the past fourweeks of my externship, I was able to meet some of the amazing library staff and also learn about the NNLM organization. When I first found out about this externship, I had no idea what Iwas getting myself into. I had never heard of the NNLM before. However, I decided to take the opportunity to be an extern and I'm glad I did.
Over the course of the four weeks, I met Vivian Okyere from the Library Operations team as well as the members of the Library Research and Scholarly Communications team, and the Education and Clinical Services team. These meetings helped me learn about the medical school library and services the librarians provide for the medical school students. The UMass Medical School Library is a partner of the New England Region of the NNLM.
Several times each week, I met with staff from the NNLM NER. Martha Meacham, Associate Director and Susan Halpin, Education and Outreach Coordinator taught me about the NNLM organization as a whole. I was also able to help with work specifically related to the NER. I provided a young person's perspective with my input about relevant health and medical information for an educational webinar Susan created and is currently updating for young adults. I also helped with checking links and providing additional descriptions for the resource list that will be part of this webinar.

While working with Susan, I learned about other types of outreach programs the NNLM offers. From providing grants to organizations to presenting webinars on health topics and NLM resources, the NNLM actively works with the community to provide health information and trustworthy online resources. My time with Susan allowed me to learn about so many different resources that can benefit my family, friends, church, and myself. Two of my uncles are pharmacists and one is an orthopedic surgeon. The NNLM has online resources that my uncles could use for research regarding their professions. I discovered a printable promotional flyer that lists websites that are specifically geared toward pharmacists that can be printed from the NER website. My church could also use resources from the NNLM to educate themselves. My church is big on living a healthy life spiritually and physically. With the NNLM's resources such as MedlinePlus, training classes and grants, my church may be able to work with the NER to organize a program to provide information on many different health topics from mental health to healthy eating.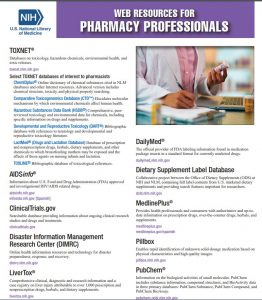 During my meetings with Susan, we talked a lot about mental health. As a high school student, mental health is an important topic to me. Some people fail to realize the amount of stress high school students go through due to grades, college, standardized tests, social media, and many other things. I have seen first-hand the effects of all these things on the mental health of students especially in a time like this. As a result, two of my friends and I decided to start a club on mental health to provide support and resources to other students. However, due to the current pandemic, the club won't be able to start running this fall. When the club does start, I have a plethora of resources to fall back on thanks to the NNLM. I now know of many different websites and organizations that I can bring back to school. My school, the Abby Kelley Foster Charter Public School in Worcester, Mass received an NER grant to pay for a speaker on mental health. Thanks to the resources at the NNLM, my school will be able to receive the mental health programming that we need.
If you asked me about the NNLM a month ago, I wouldn't have been able to tell you anything. I now know that the NNLM is a network that helps improve public health by providing the public access to online health information, resources, and data you can trust. This information is all online and is used and promoted through libraries and other members of its network. Even though my externship this year wasn't conventional, I'm still glad I was able to get to know the staff and learn about their jobs. I now have many people to turn to that are willing to help me with whatever I need. This by far has been my favorite externship.

ABOUT Susan Halpin
Email author View all posts by Susan Halpin