Things that go Bump in the Night
Posted by jessicakilham on October 20th, 2020 Posted in: Blog

---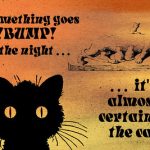 When I hear the words "Things that go Bump in the Night" – reminders me that Halloween is soon upon us which is to the glee of many children who enjoy dressing up to 'trick and treat".  As an adult, though it reminds me that our days are going to be shorter and nights longer thus more darkness.  It might be a surprise to you that many researchers are delighted in this time.  The nights are crisp, and stars are shining bright.
Bob Hirshon posted on the SciStarter newsletter this very same idea with a twist – Helping scientists find things that go bump in the night.  He stated, "Just in time for Halloween, here are our picks for citizen science projects that will help ward off primal fears, conspiracy theories and creature phobias." My favorite sentence connects with the fear of knowledge and letting science light the way – literally.
https://scistarter.org/globe-at-night
Globe at Night is presented as a National Optical Awareness Project to raise awareness about light pollution and night sky brightness.  The best part is you can be anywhere on Earth and be able to partner with this SciStarter project.
If you are looking for a little more on the spooky side of the environmental part of science then how about reptiles, arachnoids and toads?  Oh my!   Two projects from SciStarter are regarding observing reptiles and amphibians for research, conservation and preservation purposes.  Perhaps you will find the cutest spider of them all, so tiny that it wasn't discovered until recently.
SciStarter is available for children of all ages and is free for all to enjoy.
https://blog.scistarter.org/featured-projects/2020/10/scistarter-halloween-special/
ABOUT jessicakilham
Email author View all posts by jessicakilham