What does Wikipedia have to do with health information?
Posted by benniefinch on March 4th, 2022 Posted in: Blog

---
Looking for a way to celebrate Citizen Science Month, support healthier environments, and fight health inequity in one event? We've got you covered!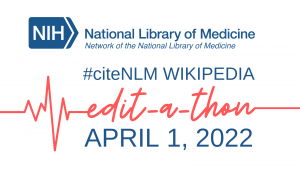 Each year, NNLM hosts two public Wikipedia edit-a-thons, one in the Spring and one the Fall. Editors gather to add citations from trusted sources to existing health and medical articles in Wikipedia. Every Edit-a-thon focuses on a different topic, and this Spring, NNLM Twitter followers helped us pick Environmental Health.
This is a great event for those interested in creating better pathways to reliable health information. No prior knowledge of Wikipedia editing is required. Anyone with an interest and internet access can participate!
To prepare for the Edit-a-thon, our team finds articles that need support, provide instructions about how to become an editor, and set up a Wikipedia dashboard to track our efforts.
At the virtual event, we will provide an overview of Wikipedia and how to edit, as well as guidance on locating trusted health information. Experienced editors will be in attendance to support new editors.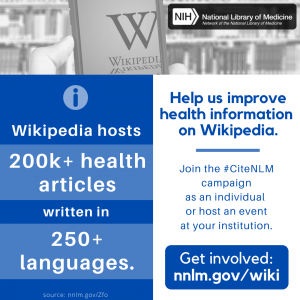 Join as an individual or create a team and join us on April 1st (no fooling) from 2-4pm ET (2ET/1CT/12MT/11PT) for our Spring 2022 #CiteNLM Wikipedia Edit-a-thon! Register here.  Can't make it that day? We have resources available for you to Host your own event.  Check out the Spring 2022 #CiteNLM Edit-a-thon page.
Did you know that Wikipedians hold similar values to librarians? We both support free, open access to information. We know that people find their way to Wikipedia, so let's collaborate to make Wikipedia the best resource possible.
Let's get started!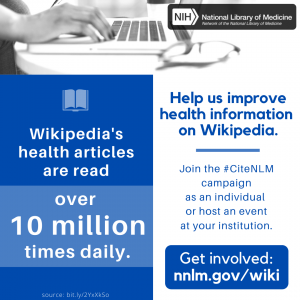 Class Details
Date(s): April 1, 2022
Time: 2:00 PM – 4:00 PM ET
Platform: Zoom
CE Credits: 2.00
CE Categories: CHIS Level 2
Class Experience Level: Beginner
For more information or to register go to Spring 2022 #CiteNLM. This entirely virtual edit-a-thon will focus on improving articles related to Environmental Health. Please feel free to share this with any individuals or networks interested in joining this campaign!
See you there!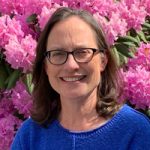 ABOUT benniefinch
Email author View all posts by benniefinch