Resources You Can Use: Radon Action Month
Posted by Sarah Levin-Lederer on January 13th, 2023 Posted in: Blog
Tags: environmental health, resources
---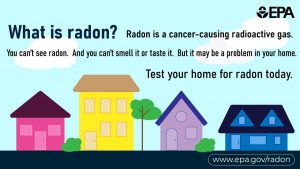 January is National Radon Action Month.
As we got to know Nancy Holmquist from Cary (ME) Medical Center during Focused Outreach last year, we learned more about projects and programs Cary has implemented around radon education and mitigation.
But what is radon? What are radon's health effects? And what are the prevention and mitigation options?
What is radon?
Radon is an odorless, colorless inert gas that naturally occurs in trace amounts in the atmosphere. Outdoors, it rapidly disperses, but inside homes, schools and workplaces radon can become trapped after entering through holes and cracks in the foundation.
Learn more:
How does radon affect health?
Radon is the second leading cause of lung cancer in the US.
Learn more:
What can you do?
Información acerca del radón en español
Enero es el Mes Nacional de Acción contra el Radón
ABOUT Sarah Levin-Lederer
Email author View all posts by Sarah Levin-Lederer