Announcing NNLM Region 5 Professional Development Awards
Posted by Michele Spatz on November 5th, 2021 Posted in: Blog, Education, Funding, Library staff, News from NNLM Region 5, Training & Education
Tags: Funding, NNLM Region 5, professional development
---
The Network of the National Library of Medicine (NNLM) Region 5, under cooperative agreement with the U.S. National Library of Medicine (NLM), announces the availability of funding through Professional Development Awards to increase knowledge, skills and competencies of NNLM network members on areas related to NLM priorities.
With these awards, NNLM Region 5 commits to prioritizing support for underrepresented populations through their meaningful engagement in professional development activities.
These awards support:
individual class, conference or workshop attendance
the costs associated with arranging for an expert speaker to give a talk, workshop, class or lecture; and
educational activities that relate to Diversity, Equity, and Inclusion and aim to prepare professionals to better serve underserved, minority and underrepresented communities.
A minimum of 8 awards of up to $1,500 each will be funded.
Awards will be available on an ongoing basis until funds are expended. To see the full funding announcement and the Professional Development Award Application, click here.
For questions or additional information contact: Cathy Burroughs, Executive Director, Email: nnlm@uw.edu, Telephone: (206) 543-9261.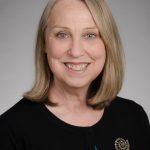 ABOUT Michele Spatz
Michele is the NNLM Region 5 Outreach and Engagement Coordinator. She has extensive experience providing consumer health information and a passion for health literacy. Michele truly believes, "Because of you, Libraries Transform.®"
Email author Visit author's website View all posts by Michele Spatz