Coming Soon! October NNLM Region 5 Listens Session
Posted by Michele Spatz on October 12th, 2021 Posted in: Blog, News from NNLM Region 5
Tags: NNLM Region 5, NNLM Region 5 Listens Session
---
Please join us for our monthly NNLM Region 5 Listens Session on Tuesday, October 19, 2021 at 3:00 p.m. Pacific Time | 2:00 p.m. Alaska | Noon HST | 11:00 a.m. SST (American Samoa) | October 20, 8:00 a.m. ChST (Guam) for a one hour Listens Session. NNLM Region 5 serves organizations in Alaska, California, Hawaii, Nevada, Oregon, Washington, U.S. Territories and Freely Associated States.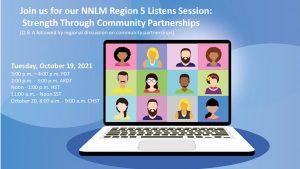 After responding to your questions, our discussion topic for this session will be: Strength Through Community Partnerships. NNLM staff will facilitate a discussion by asking the following:
How do you identify potential community partners?
What types of collaborative projects have you done with your community partners to advance health information access and use?
What advice would you share when working with community partners?
What kind of support can NNLM offer collaborative community partnerships?
Registration is required to join the NNLM Region 5 Listens Session. You may submit questions  at the time of registration. NNLM Region 5 staff will do their best to address all submitted questions during the sixty-minute listening session.
Interested? Registration is free. Register here!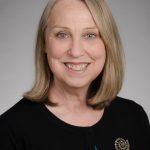 ABOUT Michele Spatz
Michele is the NNLM Region 5 Outreach and Engagement Coordinator. She has extensive experience providing consumer health information and a passion for health literacy. Michele truly believes, "Because of you, Libraries Transform.®"
Email author Visit author's website View all posts by Michele Spatz