NNLM Reading Club Explores Environmental Health
Posted by Michele Spatz on September 1st, 2020 Posted in: All of Us, Citizen Science, Health Literacy, News From NNLM PNR, PNR Weekly Digest, Public Libraries
Tags: All of Us, citizen science, consumer health, health literacy, NNLM Reading Club, public health, public library
---
Your health is a product of your genetics, lifestyle and environment. This month the NNLM Reading Club examines the third component of that critical trio.
Environmental health plays a role in a host of social issues facing our society, from how to ensure drinking water is safe, to what kinds of risks we should take in our pursuit of fossil fuels, to how much we should rely on plastic as a cheap and convenient answer for logistical problems. September's Reading Club selections will spur conversations on environmental health with reliable and thought-provoking information.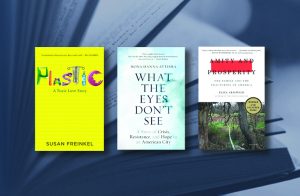 Plastic: A Toxic Love Story by Susan Freinkel provides insight into a substance that touches upon every aspect of our lives, whether we want it to or not, and will require us to make tough choices in the future.
What the Eyes Don't See: A Story of Crisis, Resistance, and Hope in an American City by Mona Hanna-Attisha tells the story of the water crisis in Flint, Mich., from the perspective of an Iraqi-American pediatrician who battled her government to expose the truth.
The Pulitzer Prize-winning Amity and Prosperity: One Family and the Fracturing of America by Eliza Griswold recounts how the fracking boom played out in a small Pennsylvania town and in the life of a mother whose children suffered from mysterious illnesses.
Visit the NNLM Reading Club to learn more about these titles and to find information on environmental health from the National Library of Medicine and other authoritative sources.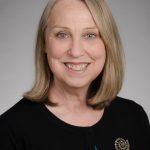 ABOUT Michele Spatz
Michele is the NNLM Region 5 Outreach and Engagement Coordinator. She has extensive experience providing consumer health information and a passion for health literacy. Michele truly believes, "Because of you, Libraries Transform.®"
Email author Visit author's website View all posts by Michele Spatz