Announcing new GMR Network Librarian
Posted by Darlene Kaskie on May 26th, 2016 Posted in: General

---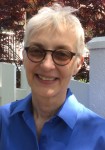 It is our great pleasure to announce that Jacqueline Leskovec has been hired for the role of Network Librarian for the National Network of Libraries of Medicine's Greater Midwest Regional Office.
Jacqueline Leskovec, MLIS, MA, RN has been with the National Network of Libraries of Medicine since 2005. Her roles at the former office evolved from Outreach and Communications Coordinator, Outreach and Evaluation Coordinator, and Outreach, Planning, and Evaluation Coordinator during that time.
Prior to her work at the Greater Midwest Region, Jacqueline was on the faculty at the University of South Florida Area Health Education Center program, providing outreach services over a nine-county region. She was branch manager at the Advocate Illinois Masonic Medical Center in Chicago, IL. Before her foray into health sciences librarianship, Jacqueline worked for almost twenty years as a registered professional nurse.
In her new role, Jacqueline will enhance network membership by building upon current connections and creating new partnerships throughout the Greater Midwest Region and nationally.
Jacqueline will be working from her home office in Chicago and traveling to the office once monthly for staff meetings.
We are excited to have Jacqueline on board!
ABOUT Darlene Kaskie
Darlene Kaskie, MLS, is a Community Engagement Coordinator for the Greater Midwest Region of the National Network of Libraries of Medicine (NNLM). She connects libraries to community health partners and provides training and funding to help communities access quality health information while also discovering All of Us, an NIH precision medicine research program. She has her Consumer Health Information Specialization (CHIS) from the Medical Library Association. When she is not advocating for health literacy, she is cheering on her two teenage daughters at their soccer and volleyball games.
Email author View all posts by Darlene Kaskie