In Outreach News
Posted by Darlene Kaskie on May 25th, 2016 Posted in: General

---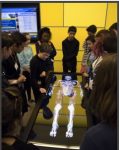 On the afternoon of May 20th, Taubman Health Sciences Library hosted 32 Native American teenagers from all the tribes of Michigan, some located way up north near Houghton. These students had participated in a program coordinated by the UM Center for Educational Outreach for three years and had attended a week in Camp Kinomaage every year. They had seen various areas of our campus previously, and this time they were visiting us at Taubman. They are interested in science and in attending college to study this field further.
Several staff members welcomed the students and the students clustered around the Anatomage Table while its wonders were being demonstrated. Then, the students were shown the rest of the Library, after which they walked a few blocks over to the School of Nursing to tour its Clinical Learning Center.
Toward the end of the hour, Mary Morris from Graduate Library accompanied an Associated Press photographer who wanted to take photos of transformational spaces for a news article, and the high school students interacting with the Anatomage Table evidently presented the perfect picture. (The attached photo was taken by our own student Elise Wescom–thanks, Elise!)
Thank you to everyone who assisted in welcoming these students to a tour of Taubman Health Sciences Library.
---

Anna Ercoli Schnitzer has worked at University of Michigan's Taubman Health Sciences Library first as a medical reference librarian, later as an outreach librarian, and, most recently, as a disability issues librarian. She obtained her AMLS degree from the University of Michigan School of Information and Library Science. In 2012, Anna was the recipient of the Friends of the National Library of Medicine's Michael E. DeBakey Library Services Outreach Award which recognizes outstanding service and contributions to rural and underserved communities by a practicing health sciences librarian.
ABOUT Darlene Kaskie
Darlene Kaskie, MLS, is a Community Engagement Coordinator for the Greater Midwest Region of the National Network of Libraries of Medicine (NNLM). She connects libraries to community health partners and provides training and funding to help communities access quality health information while also discovering All of Us, an NIH precision medicine research program. She has her Consumer Health Information Specialization (CHIS) from the Medical Library Association. When she is not advocating for health literacy, she is cheering on her two teenage daughters at their soccer and volleyball games.
Email author View all posts by Darlene Kaskie