NNLM Reading Club April 2022: DNA & U
Posted by Miles Dietz-Castel on March 30th, 2022 Posted in: General, NNLM Reading Club, Public Libraries
Tags: DNA Day, NNLM Reading Club
---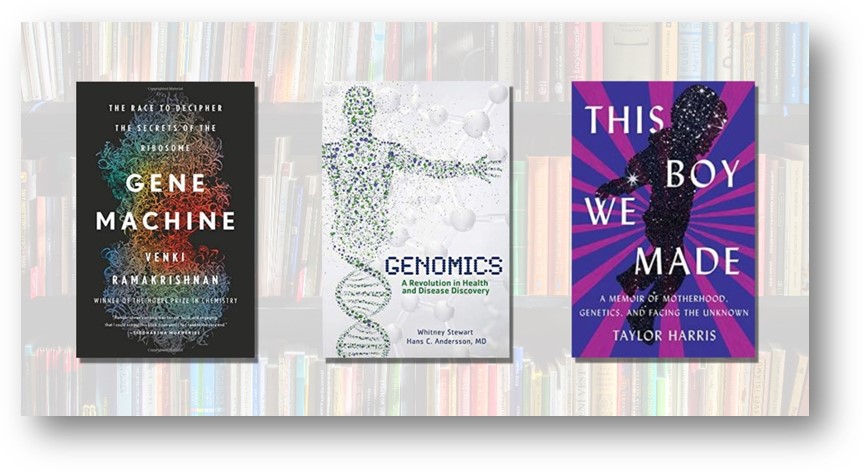 April showers bring May flowers and also National DNA Day, which celebrates two important scientific achievements: the discovery of DNA's double helix in 1953 and the completion of the Human Genome Project in 2003.  According to the National Human Genome Research Institute (NHGRI), the Human Genome Project was "the international, collaborative research program whose goal was the complete mapping and understanding of all the genes of human beings. All our genes together are known as our genome."  Today, genomic medicine involves using genetic information for an individual's clinical care (e.g. to aid diagnosis or treatment decisions) and is making an impact in the fields of cancer, drug research and therapies, rare and undiagnosed diseases, and infectious disease.
Together, we can raise the nation's awareness about the importance of genomics. The NNLM Reading Club has selected three helpful books to start the conversation:
In the Gene Machine, Nobel Prize winning scientist Dr. Ramakrishnan shares his personal struggles as a young immigrant to the United States, intertwined with his experience as a research scientist involved in the gripping race to discover the structure of ribosomes. These cellular structures are essential to human life because they translate our DNA into proteins needed for survival.
Genomics: A Revolution in Health and Disease Discovery by Hans C. Andersson & Whitney Stewart shares a fascinating and relatable look at the emerging field of genomics. To illustrate the impact of genomics on human health, they share stories of how genetic research and its application in medicine has benefitted the health of real people. Like all of science, research will continue to unlock the secrets of genomics; the authors share how this may benefit the health and well-being of all of us.
A young, Black mother faces the unfathomable in the book This Boy We Made when her 22-month-old son wakes up listless and is rushed to the hospital. After enduring agonizing months of medical exams, tests and procedures that left her son undiagnosed, author Taylor Harris fights to be taken seriously by the medical establishment. Unexpected answers come when a geneticist shares vital information.
We encourage you to learn more about DNA & U by reading one of these books and discussing it in your book club. Visit NNLM Reading. Club: DNA & U to get started.
As part of this year's DNA celebration, we invite you to join the NNLM Reading Club in partnership with the NNLM Community Engagement Center and the National Alliance for Hispanic Health on April 25 for our DNA Day celebration with Genomics authors Hans C. Andersson & Whitney Stewart as they discuss their book. To receive a free Genomics book club kit and to register for the author talk, visit: https://allofus.nnlm.gov/genomics-book-reading-club-kit
ABOUT Miles Dietz-Castel
Email author View all posts by Miles Dietz-Castel