National Rural Health Day, Thursday, November 17
Posted by Bobbi Newman on November 16th, 2022 Posted in: Resource Sharing
Tags: national rural health day, rural health day, rural health day resources
---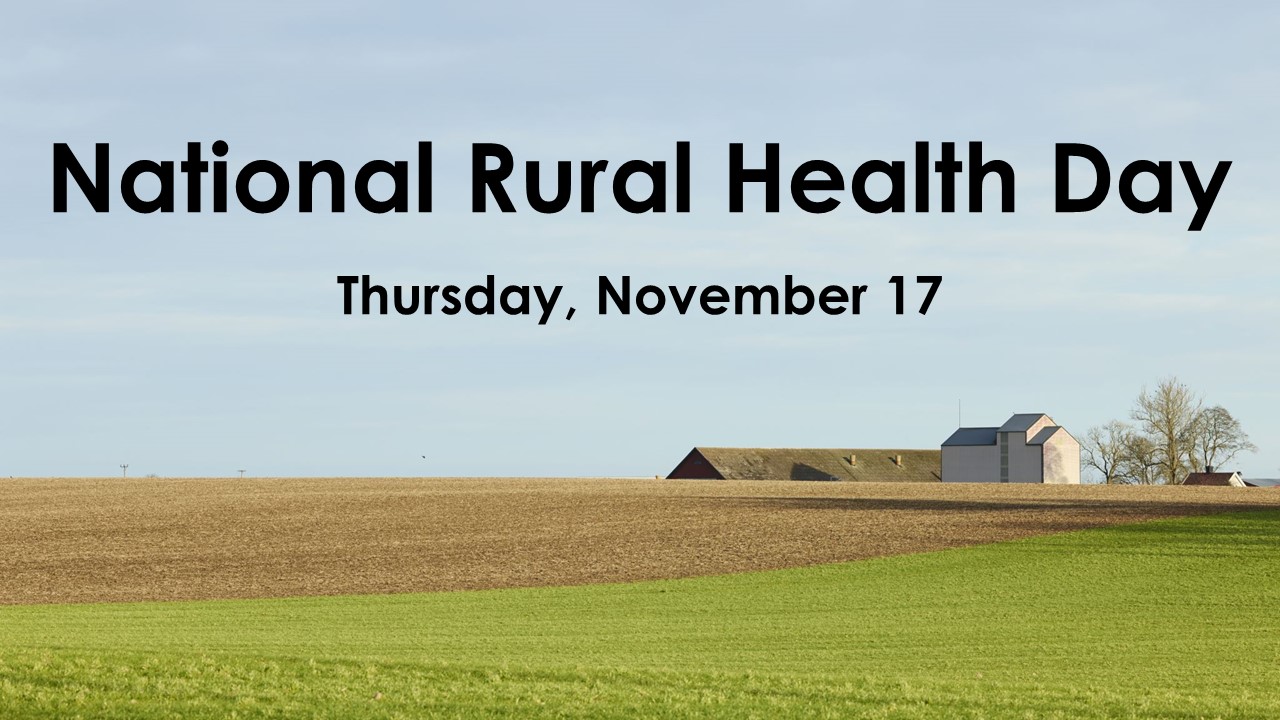 Since 2010, the National Organization of State Offices of Rural Health has celebrated National Rural Health Day on the third Thursday in November. It is a time to recognize the "power of rural" and highlight the work being done to reduce health care disparities in rural communities.
This year's theme is, "Advancing Behavioral Health Equity in Rural Communities." According to the Health Resources & Services Administration, behavioral health care is a challenge in rural communities due to stigma, lack of transportation, reimbursement issues, and a limited workforce. The staff here at Region 6 recognizes the importance of this theme. Nearly all of the State Advisory Groups we launched this year have identified mental health as the most pressing health issue and health disparity in their state. The groups are now beginning to provide leadership guidance and strategic direction for outreach and engagement activities on mental health care. I imagine some of these activities will have a rural focus, as sizeable percentages of the Region 6 population live in nonmetro areas:
| | |
| --- | --- |
| Illinois | 11.3% |
| Indiana | 21.9% |
| Iowa | 38.9% |
| Michigan | 18.0% |
| Minnesota | 22.2% |
| Ohio | 19.8% |
| Wisconsin | 25.3% |
Source: US Census, American Community Survey, 2020
NNLM can offer opportunities to rural communities by helping them connect to local resources and by providing funding for digital literacy navigator training. On National Rural Health Day, NNLM is offering the Rural Health Resources class – you can learn more about it and register here.
Here is a brief list of other events happening on National Rural Health Day:
2022 NIH Rural Health Day Seminar: November 17, 11am CT
Join the National Institute of Nursing Research for the 2022 NIH Rural Health Day Seminar: Improving Rural Health through Research Dissemination and Implementation. The seminar will center on the intersection of rurality and other factors that impact how research is implemented with rural populations. The event features expert insights into the effects of social determinants of health, culture, race and ethnicity, sexuality and gender, chronic complex conditions, and the lived environments. Register for this free event.
Collaboration Carpool: Conversations with mission-minded rural stakeholders: November 17, at 1pm CT
You are invited to reserve your complimentary spot and come along for the ride during "Carpool Collaboration: Conversations with Mission-Minded Rural Stakeholders" The National Organization for State Offices of Rural Health (NOSORH) will welcome a dynamic group of guests, each driving change and sharing stories about the work they are doing to go the extra mile through collaboration.
HHS Leadership Panel: November 17, 2pm CT
Join leaders from various HHS agencies to learn how HHS programs and initiatives are advancing rural behavioral health equity. Panelists include: Carole Johnson, Administrator, HRSA; Sonia Chessen, Chief of Staff, Substance Abuse and Mental Health Services Administration; Dr. Robert Otto Valdez, Director, Agency for Healthcare Research and Quality; Roselyn Tso, Director, Indian Health Service; Catherine Oakar, Special Assistant to the President for Public Health and Disparities, White House Domestic Policy Council (moderator).
ABOUT Bobbi Newman
Bobbi Newman (MLIS, MA) is the Community Engagement and Outreach Specialist for NNLM R6 at the University of Iowa. She is the author of Fostering Wellness in the Workplace: A Guide for Libraries. She developed the popular NNLM course "Wellness in the Library Workplace." Bobbi is a mindfulness student and a member of Association for Size Diversity and Health (ASDAH). She currently serves as a member of the Advisory Board for Let's Move in Libraries. She divides her time between her dog, reading fantasy and nonfiction, playing video games, crafting, kayaking, biking, and gardening.
Email author View all posts by Bobbi Newman