Hospital Libraries Advisory Group
Posted by NNLM Region 7 on March 31st, 2017 Posted in: Announcements

---
Save the date!  Our Hospital Libraries Advisory Group (HLAG) will hold a virtual meeting on Monday, May 8, 2017 at 10:00am.
NNLM-NER will convene this meeting to select topics for future webinars and in-person meetings.
Sample topics of interest to hospital librarians include: solo librarians, library closures, hospital mergers, virtual libraries, and decision-making with regards to services/collections.
This meeting will be recorded for those who are unable to attend at that day/time.
NNLM-NER seeks to serve hospital librarians in New England by fostering communication, facilitating partnerships, providing educational opportunities, and identifying emerging roles for health information professionals.
Questions? Please contact Margot Malachowski at margot.malachowski@umassmed.edu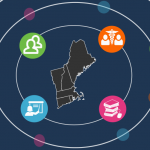 ABOUT NNLM Region 7
Network National of Libraries of Medicine, Region 7
Email author View all posts by NNLM Region 7