Site Visit! St. Joseph's School
Posted by NNLM Region 7 on March 23rd, 2017 Posted in: Announcements

---
Margot Malachowski, Education and Outreach Coordinator, visited St. Joseph's School on a snowy first-day-of-spring.
NNLM provides technology funding in "under-connected" communities to enhance access to and use of quality health information.
Principal Michael Hackenson applied for a technology grant to purchase Chromebooks for his students.
Applicants for NNLM technology grants must provide demographic information and relevant statistics that supports the need for funding.
After the purchase of technology, our role is to train the faculty in accessing health information and lesson plans available through the National Library of Medicine.
Margot demonstrated using MedlinePlus for finding health information, including information on bullying.
She showed how to use the  Children's Page to access lesson plans and games from Nemours Foundation, CDC, FDA and USDA.
NLM provides links to additional K-12 lesson plans on this Outreach Activities and Resources page.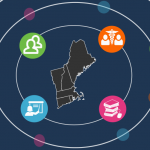 ABOUT NNLM Region 7
Network National of Libraries of Medicine, Region 7
Email author View all posts by NNLM Region 7