A New Reality: Learning empathy through Virtual Reality
Posted by Martha Meacham on June 16th, 2017 Posted in: Funded Project, Technology
Tags: funding, Projects, technology, Virtual Reality
---
How do you teach students empathy? That is the main question behind a project spearheaded by librarians at the University of New England (UNE) in Maine, funded during 2016-2017 by NNLM NER. The project entitled, "Empathy Learned Through an Extended Medical Education Virtual Reality Project", uses a virtual reality (VR) experience to immerse 1st year medical students in the experience of being 74-year-old- patient, Alfred, who has macular degeneration and hearing loss. The goal is that by using a virtual reality experience, students will gain insights and a gateway into the world of an older adult, thereby supporting the model of person-centered care that is comprehensive and empathetic toward older adult patients.
Recently the librarians leading this project, Barbara Swartzlander and Beth Dyer, visited UMass Medical School and the NNLM NER office to give people the opportunity to experience the VR technology for themselves. They were also presenting a poster about this project at the First Annual UMass Center for mHealth and Social Media Conference. The practical demonstration and hands on experience with the VR program was a huge success; many people indicating that it was their first ever VR experience.  People overwhelmingly agreed that this was a unique way to help students truly place themselves in the shoes of their patients and instill empathy. The students who participated in the first year of this project would agree. Feedback from UNE students was incredibly positive. For example, in an open evaluation question, one student reported, "I loved this experience because I think it's an incredible step forward to incorporating technology into our curriculum and creating a fundamental understanding of some of the symptoms our patients may be experiencing."
While 1st year medical students will continue to participate in this program well beyond the original project, because of the success the VR experience is being expanded to other UNE campuses and other students, including Physician Assistant students, in a second NNLM NER funded year for the project.
To learn more and see the VR project in action, take a look at this video, "Funded Partner Spotlight: We Are Alfred". Please feel free to contact anyone in the NNLM NER office to learn more about this project or about Virtual Reality technology and opportunities.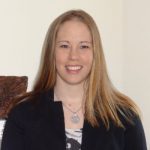 ABOUT Martha Meacham
Associate Director of the National Network of Libraries of Medicine, New England Region
Email author Visit author's website View all posts by Martha Meacham