2018 Comics and Medicine Conference Highlights
Posted by Sarah Levin-Lederer on August 27th, 2018 Posted in: Blog, Graphic Medicine
Tags: community engagement, Community of Interest, graphic medicine, health disparities, Health Literacy, professional development
---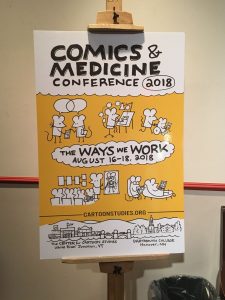 Held this year in White River Junction, VT at the Center for Cartoon Studies (CCS) and Dartmouth College (Hanover, NH), the 9th Annual Comics in Medicine Conference brought together a mix of creators, medical professionals, librarians and others to discuss how graphic novels are being used by a wide array of professionals and artists to connect and educate patients, families, and the public on health topics.
Many sessions were relevant to what I do at NNLM-NER, but here are my top three conference highlights:
Can comics help us share health data with community members? We Are Wyandotte (Kansas City, KS) believes that everyone should have access to data about their communities. And they created a comic without words to communicate information about health disparities to people with different reading levels and across languages.  Visit their site to get your own copy of Redlining Parts 1 & 2 and see how they did it.
Can telling the story of a traumatic event be therapeutic? The Center for Cartoon Studies partnered with the White River Junction VA to illustrate veterans' stories.  At the conference, they previewed a second anthology focused on the experiences of female vets and discussed the process of creating the book. To learn more about this project, visit the Cartoonist Veteran page on the CCS site.
Can comics connect across language and cultural barriers? El viaje más caro/The Most Expensive Journey is an illustrated series of personal stories from migrant dairy framers in Vermont that was designed to start conversations around isolation and mental health. You can read the full comics in English or Spanish here.
To try graphic medicine with your book club, community organization or staff, request a graphic medicine book club kit.  Kits contain six copies of the book, a discussion guide and topic-relevant health information from trusted sources such as MedlinePlus, the CDC, NIH and more.  Kits are free, so request one today.
If you want to learn more about graphic medicine and you're in Worcester, MA between September 10 and October 20, 2018, stop by the Lamar Soutter Library (University of Massachusetts-Medical School, 55 Lake Ave North, Worcester, MA 01655) to view the National Library of Medicine exhibit, Graphic Medicine: Ill Conceived and Well-Drawn. See the library's announcement for more details.
ABOUT Sarah Levin-Lederer
Email author View all posts by Sarah Levin-Lederer