Technology Improvement Award
Posted by NNLM Region 7 on July 12th, 2021 Posted in: Announcements

---


The award's primary aim is to focus on upgrading, replacing or adopting technologies that will increase access to health information, and/or strengthen communications and connectivity for health, i.e. infrastructure, and/or facilitate the acquisition of mobile technologies to assist health professionals in providing services at point of need.
The programs are intended to help a variety of users, with a focus on minority and other underrepresented populations and the health professionals who serve them, make the most effective use of information and decision-support resources that hold the promise of promoting healthy behaviors, preventing costly and debilitating illness, and improving health outcomes when disease occurs.
Period of Performance: September 1, 2021 – April 30, 2022
Amount: up to $10,000
Number of Awards Available: 4
Application Deadline: August 11, 2021
For additional information, review the Technology Improvement Award request for proposals.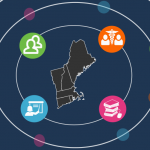 ABOUT NNLM Region 7
Network National of Libraries of Medicine, Region 7
Email author View all posts by NNLM Region 7