Announcing October 2022 NNLM Reading Club: Breast Cancer Awareness
Posted by Kristi Torp on October 3rd, 2022 Posted in: Consumer Health, Health Literacy, Health Observances, Public Health, Public Libraries
Tags: breast cancer, consumer health, health literacy, National Health Observances, NNLM Reading Club
---

October is Breast Cancer Awareness Month, an annual campaign to raise awareness about the impact of breast cancer – the second most common form of cancer in women, after skin cancer. In the U.S., approximately 13 percent of women will be diagnosed with breast cancer during their lifetime. And while the death rate has declined in recent years, disparities exist for people of color, as African American women have the highest breast cancer death rate of any U.S. racial or ethnic group. Early detection is key to survival. This month, the NNLM Reading Club explores breast cancer. For information on each of our three featured books, free downloadable book club discussion guides, customizable promotional materials and more, visit NNLM Reading Club Breast Cancer.
From the mammogram that would change her life through her diagnosis, treatment, and recovery, New York Times bestselling author Theresa Brown, RN, tells a poignant and powerful story about having breast cancer in her book, "Healing: When a Nurse Becomes a Patient." Despite her training and years of experience as a cancer and hospice nurse, Brown finds it difficult to navigate the medical maze from the other side of the bed. She relays the unforgettable details of her daily life—the needles, the chemo drugs, the rubber gloves, the bureaucratic frustrations—but this time from her new perch as a patient, looking back at some of her own cases and considering what she didn't know then about the warping effects of fear and the healing virtues of compassion.
A week after her forty-first birthday, the acclaimed poet Anne Boyer was diagnosed with highly aggressive triple-negative breast cancer. For a single mother living paycheck to paycheck who had always been the caregiver rather than the one needing care, the catastrophic illness was both a crisis and an initiation into new ideas about mortality and the gendered politics of illness. With unflinching honestly and inventive artistry, Ms. Boyer shares her experience with cancer and the "cancer industry" including the hypocrisy of the "pink ribbon culture" in her book, "The Undying," winner of the 2020 Pulitzer Prize for General Nonfiction.
Hearing the words, "You have breast cancer," is a devastating blow. To help process their experience and to cope, many individuals turn toward writing and the arts to express themselves and their feelings during this tumultuous time. "We Had To Be: An Anthology by Breast Cancer Survivors, Previvors, Thrivers, & their Families," curated and edited by Joely A. Serino, is filled with the writings and artwork of over 30 individuals from more than 8 different countries sharing how breast cancer touched their lives and changed them.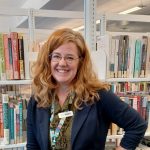 ABOUT Kristi Torp
Kristi is a Project Specialist with NNLM Region 5. She is dedicated to health literacy and believes everyone should have equitable access to accurate health information.
Email author View all posts by Kristi Torp