Brush Up on your Health Reference Skills
Posted by Emily Hamstra on November 14th, 2022 Posted in: Consumer Health, Education, Library staff, Training & Education
Tags: health reference, training, Virtual Conference
---
Have you ever gotten a health question at the reference desk? Requests for health information can be challenging, especially with our growing awareness that providing reliable health information is more important than ever. Library staff play an important role in providing reliable health information to our communities. Whether providing health information is new to you or you need to brush up on best practices and resources for health reference, the Network of the National Library of Medicine (NNLM) is here for you.
Later this week, I'm attending the Hawaii Library Association (HLA) Conference, and am presenting "Health Reference: a Short Introduction to Best Practices & Resources." The presentation outlines best practices for health reference and recommends free online health information resources. The 20-minute presentation is freely available YouTube, and I will be available for a Q&A on Friday, November 18 at 2pm HST (add the session to your HLA Conference schedule).
To dig deeper into health reference, enroll in the NNLM's 4-hour course Introduction to Health Reference: Ethics and Best Practices. The course is free, available to work through at your own pace, and is packed with practical information. In the course, you'll learn/ review:
What is a health reference interview
How the library can protect patrons' health privacy and confidentiality using ethical guidelines from library associations
Effective communication strategies to identify the health information needs of patrons
Simple methods for evaluating online health information that can be easily explained to patrons
The course is excellent for library workers at all types of libraries. Four Consumer Health Information Specialization (CHIS) credits are available for those who take the course. Additional health information resources are recommended on the NNLM's Public Libraries Guide (recently updated).
I'll see you at the HLA Conference!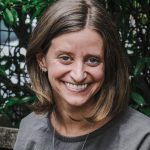 ABOUT Emily Hamstra
Emily Hamstra is the Assistant Director of NNLM Region 5.
Email author View all posts by Emily Hamstra