Experience the All of Us Journey
Posted by Michele Spatz on September 12th, 2022 Posted in: All of Us, Citizen Science, Equity Diversity Inclusion, Health Equity, News from NNLM Region 5
Tags: All of Us, citizen science, NNLM Region 5
---
As a new outreach and partnership opportunity, NNLM invites you to engage with the All of Us Journey when it comes to your area:
September 20 – 23, 2022: Cal Anderson Park 1635 11th Ave Seattle, WA
September 27 – 28, 2022: Gas Works 2101 N Northlake Way Seattle, WA
September 29 -30, 2022: Alki Beach 2665 Alki Ave SW Seattle, WA
October 3 – 7, 2022: Tacoma Community Center 1314 S L St Tacoma, WA
October 11 – 13, 2022: Washington State Public Health Association Annual Conference – 121 N Wenatchee Ave Wenatchee, WA
October 17 – 18, 2022: East Portland Community Center 740 SE 106th Ave Portland, OR
October 24 – November 4, 2022: Reno, NV
November 7 – 22, 2022: Las Vegas, NV
The All of Us Journey is a hands-on experience to build awareness and excitement about the All of Us Research Program, supported by the National Institutes of Health. As part of a national tour, this traveling exhibit actively engages community members to join this landmark research project designed to accelerate research and improve health for all of us.
We would like to request your help in promoting the Journey's visits.  Promotional materials, both print and social media, can be accessed here [drive.google.com] for sharing with your community should you choose.
For any questions related to promoting this event, please contact Veronica Milliner at Veronica-milliner@uiowa.edu. Find more information on NNLM's All of Us National Program Center [allofus.nnlm.gov] and the All of Us Research Program here [joinallofus.org].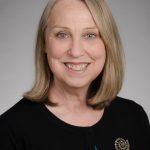 ABOUT Michele Spatz
Michele is the NNLM Region 5 Outreach and Engagement Coordinator. She has extensive experience providing consumer health information and a passion for health literacy. Michele truly believes, "Because of you, Libraries Transform.®"
Email author Visit author's website View all posts by Michele Spatz