Four Awards Currently Open & Application Training
Posted by Molly Roberts on August 24th, 2016 Posted in: Emergency Preparedness, Funding, General, News from the Region, Outreach, Technology, Training

---
The Professional Development Award and the Emergency Preparedness Award are now available. The application deadline for all four of our current awards is September 12th, 2016. The GMR is currently accepting applications for four awards and training is available to help you apply. Bobbi Newman will lead two training sessions that are specifically tailored to our current awards.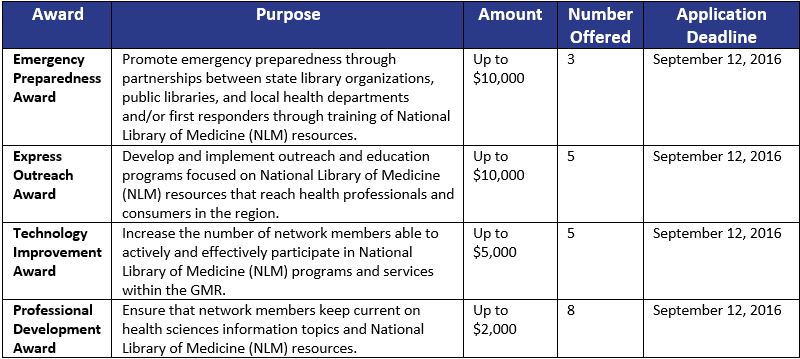 Please Register for this class by filling out this form.
Writing Successful Award Applications
Friday, August 26, 11am CT
Thursday, September 1, 1pm CT
Connection Information
     1. Go to: https://webmeeting.nih.gov/NewAwards16
     2. At the login screen, choose "Enter as a Guest" and type in your name
     3. Call-in information will be available in the room.
ABOUT Molly Roberts
Molly grew up in Michigan but now lives in Iowa City with her husband Seth, dog Fenway, and cat Whiskey. She's an avid reader and is currently trying to read everything Haruki Murakami has ever written.
Email author Visit author's website View all posts by Molly Roberts