Where did that month go?
Posted by Jacqueline Leskovec on September 2nd, 2016 Posted in: Emergency Preparedness, Funding, Training

---
Just a few weeks ago, I posted an article in the GMR blog highlighting the fact that September is National Preparedness Month. From the CDC, to the American Red Cross, the National Oceanic and Atmospheric Administration (NOAA), Ready.gov, and your local county (Cook County, IL; Johnson County, IA), city (Fargo, ND, Louisville, KY), university (University of Minnesota Duluth), or church (The United Methodist Church), being prepared for an emergency is a priority. Ready or not, the calendar page turned to September, and National Preparedness Month got underway.
Fear not, procrastinators! The NN/LM has developed a Collaborative Webinar Series, and first up is entitled: Don't Wait, Communicate About Disaster Preparedness!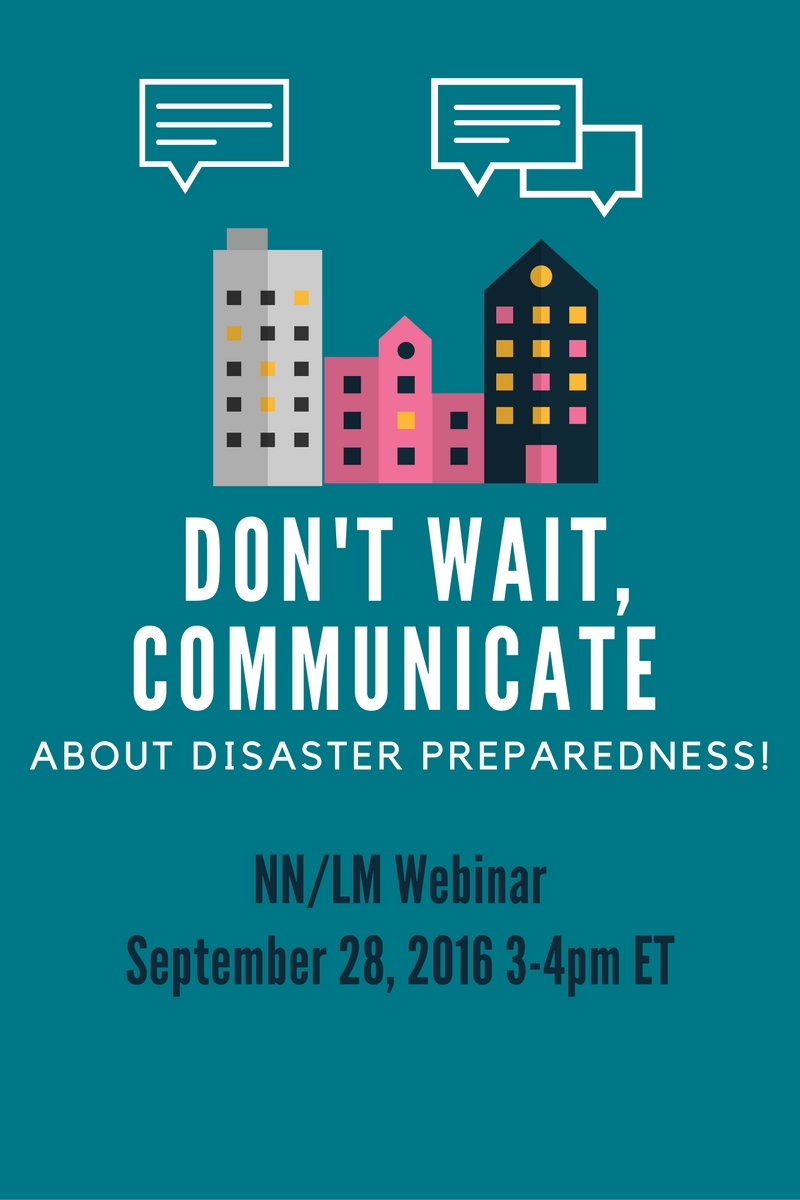 When: September 28, 2016 3-4pm ET / 2-3pm CT
To Register: https://nnlm.gov/ntc/classes/class_details.html?class_id=1057
Twice a year, America's PrepareAthon brings together organizations and individuals to:
learn what hazards are most likely to affect their communities
take action to increase preparedness
participate in community resilience planning
The next America's PrepareAthon takes place on September 30—the final day of National Preparedness Month. The theme this year is Don't Wait, Communicate: Make Your Emergency Plan Today.
The September 28 webinar will use themes from America's PrepareAthon to demonstrate the role librarians play in disaster preparedness. Learn how to get your community ready for specific hazards, and find out what resources you have at your fingertips.
Presenter: Siobhan Champ-Blackwell, National Library of Medicine, Specialized Information Services Division, Disaster Information Management Research Center
ABOUT Jacqueline Leskovec
Jacqueline Leskovec, MLIS, MA, RN (she/her) is the Network Coordinator for NNLM Region 6. She is the lead for the Partner Outreach Program (POP), Network membership and user accounts, the Data Reporting System (DRS), and the Region 6 website. She has been with the Network since 2005. In addition to being a health sciences librarian, Jacqueline maintains her license as a registered nurse. She works from her home office in Chicago. She is well acquainted with power tools and will be happy to bore you with details of her many home repair and remodel adventures.
Email author View all posts by Jacqueline Leskovec