Winter 2022 MLA Webinars – Sponsorship Announcement
Posted by Miles Dietz-Castel on October 10th, 2022 Posted in: Blog

---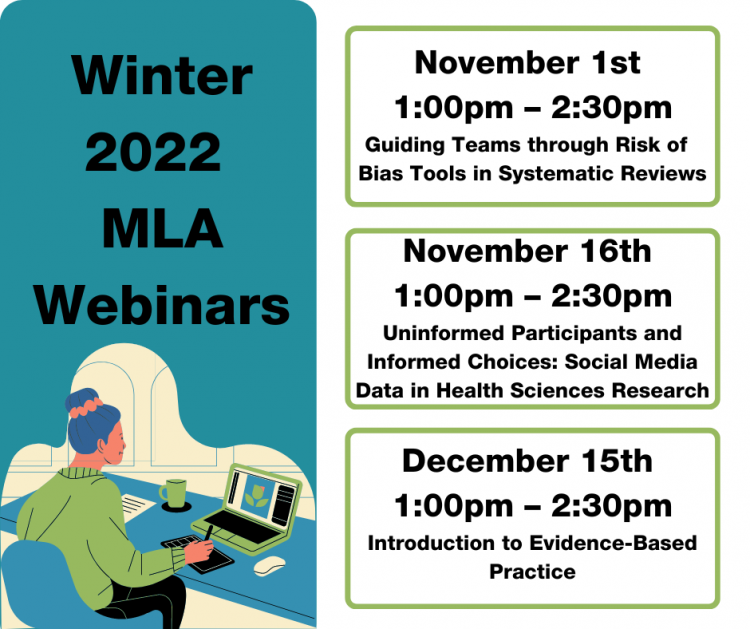 Health information professionals are encouraged to take advantage Medical Library Association (MLA) webinars, which the Region 6 office sponsors at institutions across the Region. Participation in these webinars at sponsored sites is free! The Network of the National Library of Medicine (NNLM) Region 6 will sponsor up to ten (10) institutional registrations for MLA webinars each quarter. Applications will be accepted beginning September 1, 2022 and on an ongoing basis until funding for the quarter has been expended. Institutions can apply for one (1) webinar per quarter. While each sponsored site will be able to offer the live webinar and the recorded webinar to an unlimited number of participants for up to 180 days, the Region 6 site license will only provide CE codes for up to 25 individuals.
Webinars available for sponsorship (Fall 2022):
Submission Request
Download and/or print a copy of the MLA Webinar application form.
Complete and sign the bottom of the form.
Do not include purchase order or credit card information; no payment is required.
Do not send the form to MLA.
E-mail the completed form to: region6-rml@uiowa.edu
Selection Process & Award Notification
Site selection is based on geographical location, accessibility, and potential number of attendees. Please note that Region 6 covers the cost for Site Registration only, not Individual registration. Site coordinators will receive one (1) activity point applicable to their Academy of Health Information Professionals (AHIP) MLA membership. Additional point(s) are available for leading wrap-around sessions. Applications will be accepted on a rolling basis until all funds have been spent. Awardees will be notified once approved, based on funding criteria. If you have any questions, please contact the Region 6 Office.
ABOUT Miles Dietz-Castel
Email author View all posts by Miles Dietz-Castel