School-based Alternative Peer Group (APG): An Innovative Solution to Reach Disadvantaged Students, Advance Behavioral Health Equity and Reduce Stigma in the Prevention and Recovery of Adolescent Addiction
Posted by Susan Halpin on January 4th, 2019 Posted in: Funded Project
Tags: Addiction, Alternative Peer Group, high school students with substance use disorder, recovery, substance use disorder, treatment
---
The following blog post was written by Stephanie Briody, co-founder of Behavior Health Innovators, Inc. in South Chatham, Massachusetts. Behaviorial Health Innovators is a recent recipient of NNLM NER grant funding. Stephanie shares the work of  her team, creating a program that provides in-school support and treatment for high school students with Substance Use Disorder.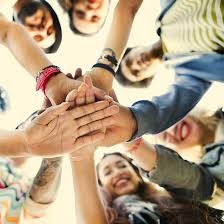 Our mission at Behavioral Health Innovators, Inc. is to create innovative, broadly available solutions for individuals and loved ones who suffer from behavioral health challenges, initially focused on the prevention of, and recovery from, substance use disorder, anxiety and depression in teens.
Through our work with teens in recovery, we learned of an evidence-based model of teen recovery support called an Alternative Peer Group (APG) and launched a pilot of the APG model on Cape Cod in April 2018.  APGs are a comprehensive adolescent recovery support model that integrates recovering peers and prosocial activities into an evidence-based clinical practice. Overall, since APGs have been in existence, they have a recovery rate greater than 85% versus a nationwide recovery rate of around 30% (Basinger & Edens).
Informed by the lessons we learned during the planning stage for our stand-alone APG, we began the development of a School Based APG program. The School Based APG brings this evidence-based model of recovery support directly into the school setting to reach disadvantaged students, advance behavioral health equity and reduce stigma.  Thus far, three (3) large public schools on Cape Cod are working with the APG Counselor and staff to create specific programming and processes to bring APG services to their students -1) Dennis-Yarmouth Regional High School is creating an APG program specific to the needs of their Alternative Learning  Program students; 2) Bourne Middle School Administrators and their Project Purple student group (Chris Herren's Substance Use Prevention Program) are developing an APG program that integrates with the school's new disciplinary policies regarding substance use and vaping; and 3) Nauset Middle School is bringing the APG Counselor directly into school to meet with specific students and their families.
In the following account, the APG Counselor describes the many pieces of the puzzle that need to come together to support teens with substance use challenges and how this program provides many of those pieces.
Recently, I received a call from the Assistant Principal of a local middle school.  A 13-year-old boy was caught smoking pot at school and admitted he had been smoking pot since he was seven (7) years old. They called me because word has started to spread about our program that provides support and a safe space for teens with substance use challenges. She asked if I could attend the meeting where this student would be discussing his reentry to school; he was serving in-school suspension due to being caught stoned at school. 
I drove to the middle school, met with the Assistant Principal and the Guidance Counselor, also the student's teacher. I also met the young man and his mother. We discussed what we offer at the APG. The young man appeared excited, like his cries for help or someone to notice, were answered.  Mom shared that she too struggles with substance use, that their home life was less than desirable, and the family has faced many adversities over the last 15 years.
Throughout the next week, I initiated and participated in many, many phone calls of support for Mom, trying to get her into treatment, conversations with the Department of Children and Families and steady contact with the school administration and the young man. I was able to visit the young man at school to talk to him about the transitions that were happening for him, since he had just been removed from his home, and placed with other family members.
This week he was able to make it to the APG group for the first time; he appeared nervous, but relieved and relaxed the instant he connected with our APG Peer Mentor. Another member referred to us for a similar situation, joined us for his first night as well. This other member has family members who also struggle with substance use, particularly an older brother, which has strained their relationship.
It was nothing short of a miracle to watch these two young men show incredible kindness to one another while they were engaging in something as simple as a video game. They ate pizza, they played "Madden", they teased each other, and laughed and joked. It was relaxed, it was age-appropriate, it was also something revolutionary: these two young men, who before coming to the APG had no place to find support and discuss their challenges and whose behaviors could have led them to be immediately caught up in the juvenile justice system, instead found commonality and an opportunity to simply "be", for two hours. We talked about the next Tuesday's activity, which will be bowling.  Friendly wagers were made. And I believe that both young men are looking forward to next week's group. This is the power of the APG: peer to peer interaction, a place to simply be with others struggling with similar challenges. 
Working with teens and their families, people that would otherwise possibly be pushed through a system or whose issues would be taken care of through punitive measures, without careful, considerate, and compassionate support, has been one of the greatest honors of my life.  Amanda McGerigle MSW, LICSW, Counselor for RecoveryBUILD Alternative Peer Group (APG).

ABOUT Susan Halpin
Email author View all posts by Susan Halpin