Data Curation Network Clinical Trials Data Primer
Posted by Justin de la Cruz on December 9th, 2022 Posted in: announcements
Tags: Data Curation Network, data primer
---
One of our summer 2022 interns, Liliana Gonzalez, worked with the Data Curation Network to create and share a Clinical Trials Data Primer:
https://github.com/DataCurationNetwork/data-primers/blob/master/Clinical%20Trials%20Data%20Curation%20Primer%20/clinical-trials-data-curation-primer.md
The project summary includes a description of this resource: "This primer provides a basic foundation for what goes into evaluating data from clinical trials for curation, sharing, and preservation purposes, specifically from the perspective of a data curator. It broadly covers: the benefits of sharing clinical trial data, potential data sharing challenges, selecting a repository, [and] clinical trial registration requirements…"
This is one example of the work coming out of our annual summer data services internship, which will take place again in June 2023. If you are interested in being considered as a partner site for future interns, or want more information on our program, please contact us at ncds@nnlm.gov.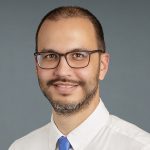 ABOUT Justin de la Cruz
Email author Visit author's website View all posts by Justin de la Cruz