I Used the Tearless Logic Model Method and It Worked. Nobody Cried!
Posted by nnlmneo on December 15th, 2017 Posted in: Blog, Logic Models, Participatory Evaluation, Practical Evaluation, Regional Interest

---
In April 2015, this NEO Shop Talk post introduced you to something called a "Tearless Logic Model" that was developed by a group of community psychologists at Wichita State University and published in the Global Journal of Community Psychology Practice. I am here to report that I have used this, and it is true. It really is a tearless process. My evidence? Nobody cried during or after the process when I used it!
Let's start by talking about why logic models might make people cry. Often when evaluators are presenting logic models and talking about evaluation they use terms and phrases such as "outcomes-based planning" and "that is an output, not an outcome." Using profession-related jargon is like speaking in a special language that prevents everyone else in the room from participating in the conversation. That can be a painful experience and can make some people feel as though they are being excluded on purpose, perhaps even making them produce tears! The Tearless Logic Model process was designed to make sure everyone feels included, and that they understand and can participate in the conversation.
I decided to use the tearless logic model with a group from a small nonprofit organization that was working to start a community kitchen. I received a call from a consultant who was working with them who asked me if I would be able to help them develop a logic model. It was perfect. They were a bunch of people from the community who had absolutely no experience with evaluation. They had heard of logic models somewhere and were expecting someone to show up with a lot of technical forms and use terms to go with them.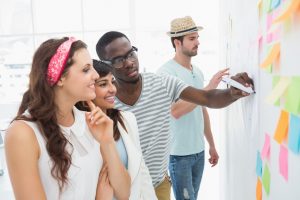 Instead, they were surprised with some simple questions and paper on the wall. After a couple of questions, they let me know that they really needed to get to working on that logic model, and I reassured them that we would. We completed the process and they were truly surprised in the end that they had been creating the logic model. After the meeting I further organized the information into a more formal framework and sent it to them and they were pleased with the results. Moreover, because the group had collaboratively created the logic model and agreed on the activities, outputs, and outcomes, they were ready to buy into the whole evaluation process.
Recently, I was fortunate to hear Dr. Greg Meissen, one of the authors, talk about this tool. He has used it with many community and other types of groups and it continues to be a useful tool. With large groups, you can break up into smaller groups to answer the questions and then bring all their answers together at the end. He noted that, when the group is varied and includes professionals with a lot of knowledge about evaluation and individuals who know nothing about evaluation, the Tearless Logic Model evens the playing field by taking the jargon out of the process and introducing the concepts in terms that everyone can understand. He also noted the value in having a good facilitator.
So, the next time you are dreading development of a logic model with a group of people, check out this tool. It really does make the process painless, and thus, "tearless." If you use it, be careful not to slip into evaluation jargon or technical terms. In the end, after you rearrange the columns into the logic model flow, you can have the group check to see if there are connections among the activities, outputs, and outcomes. You especially want to make sure that every outcome is linked to an activity.
Resource: Lien, A.D., Greenleaf, J.P., Lemke, M.K., Hakim, S.M., Swink, N.P. Wright, R., & Meissen, G. (2011). Tearless Logic Model. Global Journal of Community Psychology Practice, 2(2).
ABOUT nnlmneo
Email author View all posts by nnlmneo