Announcing June 2022 NNLM Reading Club: ACEs/PTSD/Trauma Recovery
Posted by Michele Spatz on June 1st, 2022 Posted in: Consumer Health, Health Literacy, Health Observances, Mental Health, News from NNLM, News from NNLM Region 5, Public Libraries
Tags: ACEs, consumer health, health information, health literacy, libraries, mental health, National Health Observances, NNLM Reading Club, PTSD, public library, reading, Trauma Recovery
---
Post-traumatic stress disorder or PTSD can result from many different types of experiences, for example the trauma of surviving a war or global health pandemic. It may also be more insidious, embedding itself in a survivor or witness of childhood physical, sexual or emotional abuse. This type of PTSD may manifest itself in adulthood as ACEs or Adverse Childhood Experiences. Past traumas inform individuals' physical and mental wellbeing. For anyone who is suffering from past or current trauma, help is available. In support of healing, and in light of Post-Traumatic Stress Disorder Awareness Month held each June, NNLM Reading Club offers three books to explore this compelling topic.
Dr. Nadine Burke Harris was already known as a dedicated physician, delivering targeted care to vulnerable children. But it was Diego—a boy who stopped growing after a sexual assault—who spurred her journey to uncover the connections between toxic stress and lifelong illnesses. Her research revealed just how deeply our bodies can be imprinted by ACEs—adverse childhood experiences like abuse, neglect, parental addiction, mental illness, and divorce. Childhood adversity changes our biological systems and lasts a lifetime. The Deepest Well: Healing the Long-Term Effects of Childhood Trauma and Adversity aids our understanding of how ACEs encode our body and offers hope by sharing important interventions for preventing lifelong illness for those we love, and future generations.
Early experiences shape our lives far down the road. What Happened to You?: Conversations on Trauma, Resilience, and Healing by Oprah Winfrey and Bruce Perry, M.D., PhD, provides powerful scientific and emotional insights into behavioral patterns we often struggle to understand. They reframe the question "What's wrong with you?" to "What happened to you?", a subtle but profound shift in our approach to trauma. This allows us to understand our past and clear a path to our future by opening the door to resilience and healing in a proven, powerful way.
In her searing memoir of reckoning and healing, What My Bones Know: A Memoir of Healing from Complex Trauma, acclaimed journalist Stephanie Foo reveals the little-understood science behind Complex PTSD or C-PTSD. She shares her journey about how C-PTSD shaped her life and how she has learned to live with her past. In her opening Author's Notes, Foo addresses other readers who may suffer from C-PTSD and then shares these hopeful words: "This book has a happy ending."
We encourage you to learn more about Adverse Childhood Experiences and PTSD by reading one of these books and discussing it in your book club. Visit NNLM Reading. Club: Trauma Recovery to get started.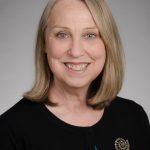 ABOUT Michele Spatz
Michele is the NNLM Region 5 Outreach and Engagement Coordinator. She has extensive experience providing consumer health information and a passion for health literacy. Michele truly believes, "Because of you, Libraries Transform.®"
Email author Visit author's website View all posts by Michele Spatz