Beyond Anecdotes: Story Collection Methods for Program Evaluation
Posted by nnlmneo on November 3rd, 2017 Posted in: Blog

---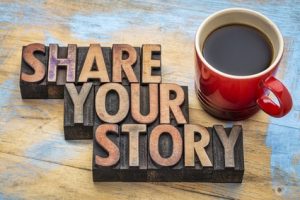 The promotora's uncle was sick and decided it was his time to die. She was less convinced, so she researched his symptoms on MedlinePlus and found evidence that his condition probably was treatable. So she gathered the family together to persuade him to seek treatment. Not only did her uncle survive, he began teaching his friends to use MedlinePlus. This promotora (community health worker) was grateful for the class she had taken on MedlinePlus offered by a local health sciences librarian.
This is a true story, but it is one that will sound familiar to many who do health outreach, education, or other forms of community service. Those of us who coach, teach, mentor, or engage in outreach often hear anecdotes of the unexpected ways our participants benefit from engagement in our programs. It's why many of us chafe at using metrics alone to evaluate our programs. Numbers usually fall short of capturing this inspiring evidence of our programs' value.
The good news is that it isn't difficult to turn anecdotes into evaluation data, as long as you approach the story (data) collection and analysis systematically. That usually means use of a standard question guide, particularly for those inexperienced in qualitative mythologies.
For easy story collection methods, check out the NEO tip sheet Qualitative Interview "Story" Methods. While there are many approaches to doing qualitative evaluation, this tip sheet focuses on methods that are ideal for those with limited budgets and experience in qualitative methods. Most of these story methods can be adapted for any phase of evaluation (needs assessment, formative, or outcomes). The interview guides for each method consist of 2-4 questions, so they can be used alone for short one-to-one interviews or incorporated into more involved interviews, such as focus groups. Every team member can be trained to collect and document stories, allowing you to compile a substantial bank of qualitative data in a relatively short period of time. For example, I used the Colonias Project Method for an outreach project in the Lower Rio Grande Valley and collected 150 stories by the end of this 18-month project. That allowed us to do a thematic analysis of how MedlinePlus en Español was used by the community members. Individual stories helped to illustrate our findings in a compelling way.
Do you believe a story is worth a thousand metrics? If so, check out the tip sheet and try your hand at your own qualitative evaluation project.
Note: The story above came from the project described in this article: Olney, Cynthia A. et al. "MedlinePlus and the Challenge of Low Health Literacy: Findings from the Colonias Project." Journal of the Medical Library Association 95.1 (2007): 31–39. PMC free article.
ABOUT nnlmneo
Email author View all posts by nnlmneo