Erik Elías Glenn: A Passion for Evaluation
Posted by randerson on October 28th, 2021 Posted in: Blog

---
What does effective service look like?
The question is one that Erik Elías Glenn has been preoccupied with answering over the past decade, first as executive director of the Chicago Black Gay Men's Caucus, and today as an evaluation expert at Northwestern's Institute for Sexual and Gender Minority Health and Wellbeing.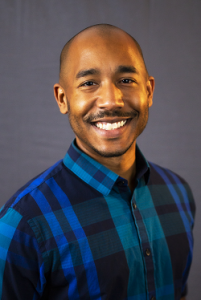 "Evaluation is a practice intent on addressing this question and more," says Glenn, associate director of the ISGMH Evaluation, Data Integration and Technical Assistance (EDIT) Program. "We often discover opportunities to improve not only service provision, but interventions across many systems-levels. Becoming an evaluator has broadened my capacity to support public health efforts more than I thought possible and, I hope, improved my ability to positively impact the health of communities across Chicago."
Glenn says he loves meeting teams that provide, advocate for, and design community-sustaining work throughout his adopted hometown of Chicago.
"Chicago is where I discovered myself as a public health professional," says Glenn, who still maintains an affinity for Detroit, where he was born and raised. "There are brilliant advocates and service providers here to learn from, and there are also public health problems that are deeply entrenched and structural. The learning environment is rich and necessary."
With the EDIT Program, Glenn oversees evaluation capacity building and technical assistance provided to nearly 100 health and human service projects funded through the Chicago Department of Public Health. Glenn also recently began work on an evaluation project supporting the Network of National Libraries of Medicine.
"This is the broadest reaching multi-site evaluation project that I've ever worked on — in geography and number of individual sites," he says. "The bulk of our team's technical assistance has been delivered locally, so we've been excited to tackle technical assistance on a national level."
The process of evaluation involves collecting and analyzing information about a program's activities and outcomes as a way to improve its effectiveness.
"Evaluation takes considerable resources — time, energy, and money — to implement," says Glenn. "For evaluators that prioritize community-directed evaluation, this means dedicating ourselves to building relationships and committing ourselves to taking our lead from those who are most marginalized."
ABOUT randerson
Email author View all posts by randerson