On Continuous Improvement
Posted by randerson on June 24th, 2022 Posted in: Blog

---
Stumble, failure, mistake, bungle, blunder, miscalculation, misstep. These words may carry a negative tone, however mistakes regularly provide important opportunities to learn, adapt, try new strategies, and inspire positive action on our teams and in our work. I'm a huge college basketball fan and can't help but associate legendary basketball coach John Wooden with the topic of continuous improvement. Coach Wooden considered learning from failure as part of the long-range strategy for his team, and an opportunity to adapt to challenges in a productive and proactive manner. He considered flexibility the "key to stability." (1) Like Coach Wooden, NEC team members are big fans of continuous improvement, seeking ongoing advancements in our operations, projects, processes, and communications in our work for the NNLM. In our recent Year 2 kickoff presentation (2), we shared a few of these mistakes and "lessons learned" to highlight the value of learning from missteps as we work to improve the way we carry our work in support of the NNLM.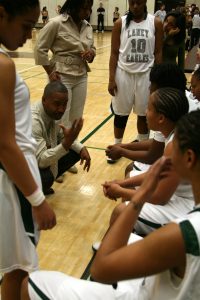 Effective support of the NNLM mission has required our own continuous adaptation and evolution as we respond to priorities, build on opportunities, and grow a community of practice around evaluation and continuous improvement.  We've learned a lot over our first year in the Network, developing a better understanding of the NNLM, its structure, and how we can work with our NNLM colleagues to make progress. We've adapted as we learned more about NNLM processes and how they may differ from other evaluation projects. We've also learned about the importance of agile workflows for the Network, in scope as well as specific points of flexibility. In response, we've updated and improved programs, services, and staffing to ensure we are effective in our work. Likewise, we've improved our engagement with the Network, developing common language and tools, refining preferred channels of communication, and incorporating these improvements into our daily interactions with the network.
We embrace change and challenge with our NNLM teammates across the Network — and we are eager for ongoing opportunities to learn, and evolve, and continuously improve with you!
"Failure is not fatal, but failure to change might be," John Wooden.
Written by NEC Director Kristi Holmes, PhD
(1) John Wooden. Wikipedia. https://en.wikipedia.org/wiki/John_Wooden
(2) National Evaluation Center Year 2 Kickoff. Zenodo. https://doi.org/10.5281/zenodo.6607709
Photo credit: Lady Eagles huddle with Coach Ron Williams. Photo by Reginald James. Available at https://www.flickr.com/photos/blackhour/4434167015(CC BY-NC 2.0)
ABOUT randerson
Email author View all posts by randerson