Matthew Carson: 'There's Almost Always More Than One Way to Solve a Problem'
Posted by randerson on February 24th, 2023 Posted in: NEC Profile

---
With a career in specialized lab assembly and experimentation that started more than two decades ago, Matthew Carson was an early pioneer of bioinformatics and data science. As head of Galter Library's Digital Systems Department and director of Data and Technology for the Network of the National Library of Medicine National Evaluation Center, Carson has evolved his skillset to include the development and design of novel and sustainable data services, exploration of next-generation research data management platforms, and infrastructure management of the NNLM Data Warehouse.
"After I got my bachelor's degree in 2000, I worked in a microbiology lab and learned how to build genomic assembly and annotation pipelines on the job. At the time, this wasn't really something you could learn to do in your college classes, so I had to jump in and learn everything from scratch," says Carson.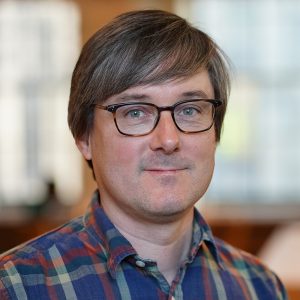 Five years into his lab work, Carson attended graduate school; It was there he made the decision to shift focus from bioinformatics to a wider data science perspective. He recalls this transition as beneficial to broaden his realm of knowledge to better examine technological complexities.
"There's almost always more than one way to solve a problem. Anyone who has worked on a technical project knows that social and political issues can be the most difficult issues to solve. Having a deep understanding of not only what you are building, but why you are doing this, who will be using it, how they will use it, etc. is vital."
This pivotal academic background cemented Carson's role as a proactive problem-solver, an essential skill to hone in the field of data science. Carson cites numerous "pressing issues" faced in data dissemination, including document organization and secure data sharing. However, he believes the most notable long-standing issue encompasses collaboration.
"Collaborative efforts are exciting and have the potential to provide huge benefits to the community, but they are complicated, and working in this environment can present big challenges. These projects often involve multiple sites, each with their own work culture, their own tools, their own workflows, and their own expectations. The interoperability of systems that are not designed to work together is an obvious challenge."
To Carson, the logistical success of collaborative implementation relies on one pinnacle factor: communication.
"For those who are technical, communication with non-technical stakeholders is sometimes out of our comfort zone. The necessary skills for this can be difficult to teach and I think are mostly gained from experience. I have certainly learned a lot from the collaborative projects I have been a part of, and hopefully my skills are continually improving."
Carson spearheads the development of technological infrastructure for the NNLM Data Warehouse through his directorial role within the NEC. Reflecting on his favorite aspect of this role, his most fond memories surround intern mentorship of up-and-coming data science enthusiasts.
"We mentored three interns from the National Center for Data Services last summer as they explored the NNLM Data Warehouse, came up with interesting research questions, and watched them present their findings. I really enjoyed watching them build their skills and overcome the challenges that came along. It was a fun experience and I look forward to taking part in the program again this summer."
Carson's current professional endeavor is the development of a new NNLM Data Warehouse built on a more modern codebase intended to improve user experience and enhance opportunities to put the data to work, including Tableau dashboards for the NNLM community.
"We are developing a flexible and scalable tool with new data sources and are currently working on the data model and creating the technical framework. By following software development best practices and making our work open source, we hope to make the new Data Warehouse a resource that can be built upon and enhanced by future NNLM partners."
While collaborative projects sometimes present challenges, Carson finds that they also bring great opportunity and appreciates the ability to work alongside other leaders throughout the country.
"We have a wonderful team here at the NEC, and I have enjoyed working with them as well as getting to know our NNLM partners. We will continue putting our best effort towards enhancing evaluation for the network."
Written by Alex Miranda
ABOUT randerson
Email author View all posts by randerson