Member Spotlight: Bradbury-Sullivan LGBT Community Center
Posted by fsteele on June 7th, 2022 Posted in: Member Spotlight
Tags: 2021, memberspotlight
---
June is LGBTQIA+ Pride Month! Celebrated every year to honor the 1969 Stonewall Uprising in Manhattan, it recognizes the impact that LGBTQIA+ have had locally, nationally and  internationally.  In this post we are featuring one of our previously funded projects that supported LGBTQIA+ persons.  The following post was written by Kimberly Levitt of the Bradbury-Sullivan LGBTQ Community Center.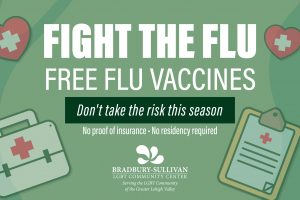 While existing health disparities make it critical for LGBTQ people to engage in preventive care such as flu vaccinations, barriers to care including past or anticipated discrimination reduce the rate at which many LGBTQ people consume healthcare. The 2020 Pennsylvania LGBTQ Health Needs Assessment demonstrated that less than half of LGBTQ Pennsylvanians receive an annual flu shot. Though LGBTQ people were at increased risk with regards to COVID-19, other indicators including the Pennsylvania LGBTQ COVID-19 Vaccine Survey showed that LGBTQ Pennsylvanians were often less likely to know where to go to seek vaccinations and that those who identified as people of color were more likely to be hesitant due to medical mistrust. Through funding from NNLM, Bradbury-Sullivan LGBT Community Center served as a trusted messenger, partnering with eight public libraries (including seven outreach and education events and nine vaccination events) and local vaccine providers to address misinformation and mistrust and to increase flu vaccination rates among LGBTQ residents of Eastern Pennsylvania.
By conducting community-based outreach at public libraries, the team was able to provide educational materials and address common questions and concerns in order to increase health literacy with regards to flu vaccines, as well as ensure that LGBTQ community members had increased access to vaccinations from LGBTQ-affirming service providers. This program provided 274 flu vaccinations to community members and approximately 170 community members attended the outreach and educational events offered at the local public libraries. This project was a huge success – community members expressed how excited they were to get vaccinated close to home. Others said they felt the clinic was convenient and accessible. Some community members reported feeling safe and comfortable attending these events as events were coordinated and run by Bradbury-Sullivan LGBT Community Center staff. Attendees expressed to staff from the center that they rarely see LGBTQ+ health promotion in their local areas and having these events at their local libraries was very meaningful. Library staff at multiple locations expressed gratitude to Bradbury-Sullivan LGBT Community Center staff for hosting this important health service for their patrons. We look forward to continuing our partnership with NNLM and offering projects just like this to the community.
Click the link for more information about Bradbury-Sullivan LGBT Community Center or this project.
ABOUT fsteele
Faith Steele, MLS, is the Outreach and Education Librarian for Region 1 for the Network of the National Library of Medicine at the University of Maryland Baltimore. She connects libraries to community health partners and provides training and funding to help communities access quality health information
Email author View all posts by fsteele