NNLM Black Maternal Health Week 2023
Posted by fsteele on April 7th, 2023 Posted in: Uncategorized

---
Black Maternal Health Week is an opportunity to increase awareness and learn more about health issues and disparities that disproportionately impact Black women and their families.  An NNLM team has developed a program of events and resources for the week of April 11 – 17.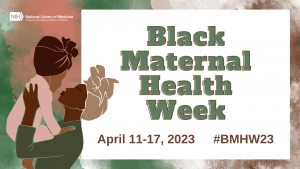 Black women are three times more likely to die from a pregnancy-related cause than White women. Multiple factors contribute to disparities…variation in quality healthcare, underlying chronic conditions, structural racism, and implicit bias.  Social determinants of health prevent many people from racial and ethnic minority groups from having fair opportunities for economic, physical, and emotional health.  (CDC Office of Health Equity)
Programs feature community efforts organizations are taking to address these disparities.
Join us on April 11 for a lecture and live discussion of History of Black Maternal Health.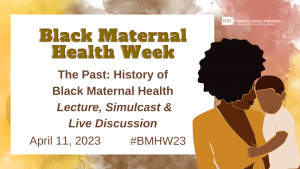 Dr. Deirdre Cooper Owens of the University of Nebraska-Lincoln presents a history of Black maternal health. Participate in discussion immediately following.  Learn more http://www.nnlm.gov/xkXz5
Programs continue on Thursday, April 13,  "Exploring the Maternal Experience Survey Webinar" featuring Dr. Lisa Gittens-Williams, University Hospital, Newark, NJ. This presentation will explore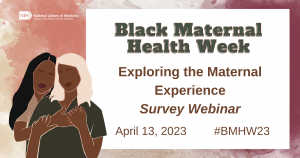 finding of the recent survey and address how understanding the maternal experience can contribute to improved outcomes. Learn more www.nnlm.gov/xkMvx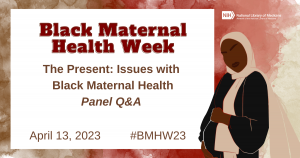 Later in the day on April 13, join the panel of Dr. Kyrah Brown, University of Texas at Arlington; Charnell Covert, University of Louisville and Towson State University; Gabriella Nelson of  Maternity Care Coalition.  Black Maternal Health Week Panel Discussion: Current Issues in Black Maternal Health.
Panelists will present on current issues in Black Maternal Health, followed by moderated Q&A. www.nnlm.gov/xm55Q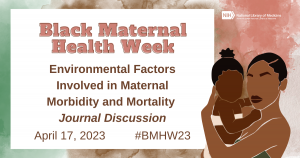 Black Maternal Health Week Journal Discussion will be a later-in-the-day event on April 17. Participants will discuss how Black women and other birthing people can contribute to research and how research can lead to actionable results. Learn more and register, space is limited www.nnlm.gov/xkS3j
(Boyles, Abee L et al. "Environmental Factors Involved in Maternal Morbidity and Mortality." Journal of women's health (2002) vol. 30,2 (2021): 245-252. doi:10.1089/jwh.2020.8855)