Systematic Reviews in Cochrane Library
Posted by Cecilia Vernes on March 4th, 2022 Posted in: Blog, Education and Outreach, How To, PHDL Resources

---
Register for Introduction to Cochrane Library for True Beginners with Wiley, the publisher of The Cochrane Library

on Thursday, March 17, 2022 2:00 PM ET/ 1:00 PM CT/ 12:00 PM MT/ 11:00 AM PT

The Cochrane Library is part of the PHDL collection and includes in its set of databases the Cochrane Database of Systematic Reviews (CDSR).  CDSR is the leading journal and database for systematic reviews in health care. In addition, the CDSR includes protocols for Cochrane Reviews as well as editorials and supplements.  The CDSR covers any topic relevant to health care, including health services.  Although systematic reviews are findable in PubMed, the CDSR has a strict process for acceptance into the database.
Access the Cochrane Library by clicking on the Cochrane Logo on the PHDL page.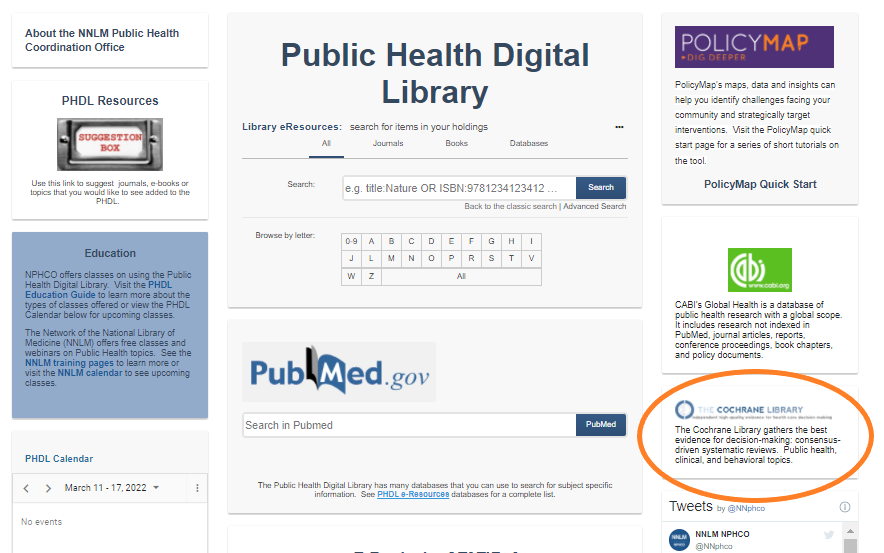 Once in the Cochrane Library page begin by typing your terms in the search box.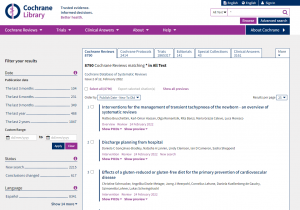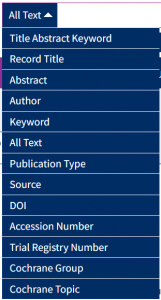 14 different search options are available. However,  the default setting is  'All Text' when you first open the database.
Systematic reviews are also browsable across 37 health and medicine domain areas, including public health.
Each record has P(opulation) I(ntervention) C(omparison) O(utcome) available in the Show PICO link with a dropdown arrow.
The systematic reviews in this database are available as a PDF for view and/or download in a few different formats: full, standard, and summary.  The CDSR has many other filters and search capabilities and we encourage attending the training listed above on March 17 to get more information.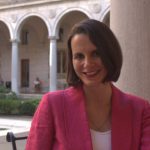 ABOUT Cecilia Vernes
Email author View all posts by Cecilia Vernes