Public Health Digital Library's Citation Matcher
Posted by Kathy Downing on September 9th, 2021 Posted in: Blog, How To, PHDL Resources

---
The Public Health Digital Library's Citation Matcher tool can be used to search for single journal articles when you know an article exists and you have parts of the citation.  Users can search by article title, author, PMID, DOI or journal title, volume and issue number.
Start your search for an article using:
Parts of an article title and/or author names
The journal the article appears in, its volume or issue numbers or year.
A PMID (a PubMed ID number) or DOI (Digital Object Identifier i.e. 10.1007/s10597-017-0113-z.)
View the results:
If the article is in the PHDL, it will take you to the full-text version of the article.
If it is not in the PHDL, you will be prompted to order the article from your Partner Library
The Citation Matcher can be accessed by clicking the link at the top of the PHDL page:

Or by scrolling down the bottom of the PHDL page.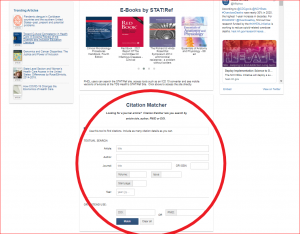 Here are some examples of article title searches using the title box and their results:
Diversion from Jail of Detainees with Substance Abuse: The Interaction with Dual Diagnosis
As the article is not part of the PHDL collection, the citation was pre-filled as a Document Delivery request ready for sending to our Partner Library.

2.  Reincarceration Risk Among Men with Mental Illnesses Leaving Prison 
We pasted the article title in the Title Box.  Options for articles with exact and approximate title are in a pull down menu where the article can be selected.

This article's journal is part of the PHDL collection so selecting the article takes us to the vendor-publisher's website where the full-text version of the article is displayed.

Users can continue using PubMed for subject or topic searching when you want to find one or more articles on an area of research.
ABOUT Kathy Downing
Kathy Downing is the Public Health Digital Library Coordinator for the NNLM Public Health Coordination Office.
Email author View all posts by Kathy Downing