PHDL Resource Suggestion Box is Open For Business
Posted by Javier Crespo on December 6th, 2021 Posted in: Blog, How To, PHDL Resources

---
From time to time, the Public Health Digital Library receives requests to add a journal or book to our collection.  In order to make this process easier and encourage users to request materials they need,  we have added a Resource Suggestion box to the PHDL website.   We consider all suggestions carefully weighing cost, expected use, availability and use of similar resources as part of our collection process.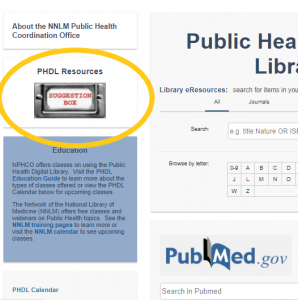 The Resource Suggestion box is easily visible on the upper left corner of the PHDL website.  The suggestion box uses a survey tool interface for users to make a quick suggestion while using the PHDL.  Once you click on the suggestion box, you will be asked for identifying information.  You will then be asked to enter any titles that you would like to see added to the collection or a general area of public health  that you think we could cover better.   Once done, you will receive a confirmation email.  An email with the suggestion will be forwarded to our group email at phdl@umassmed.edu.
Hopefully, your public health department is using the central PHDL website.   You can access the resource list, search tools, calendars, and other helpful resources and tools from the website.   Contact us at phdl@umsasmed.edu if you need help accessing the site or to help your department make the move to this page.
ABOUT Javier Crespo
Email author View all posts by Javier Crespo