Using Syringe Service Programs to End the HIV Epidemic
Posted by Kathy Downing on July 9th, 2021 Posted in: Announcements, Blog, Education and Outreach, HIV

---
The Ending the HIV Epidemic will be holding a stakeholders webinar on Wednesday, July 14th, 2:00 – 3:30 pm ET.   You can hear federal agencies and community leaders discussing on-the-ground efforts, benefits and successes of Syringe Service Programs to end the HIV epidemic.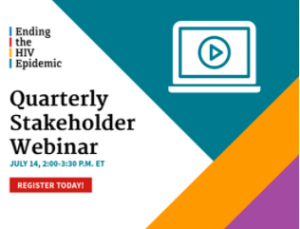 This webinar will:
Provide updates on major federal activities related to the implementation of the Ending the HIV Epidemic initiative.
Highlight ways to improve the scale up and use of harm reduction models including Syringe Service Programs (SSPs).
Provide opportunities for question and answer from major community members and government officials.
Registration is required for the webinar. This event is open to everyone, please note capacity is limited so register early! This webinar will be audio-recorded and slides will be publicly available for those unable to attend.
For more information on these programs, you can view the CDC's  Syringe Services Programs: A Technical Package of Effective Strategies and Approaches for Planning, Design and Implementation.  The technical package, which was released in December 2020,  provides evidence of the effectiveness of strategies and approaches to support successful planning, design, implementation, and sustainability of syringe services programs.
The CDC designed this technical package in partnership with the National Alliance of State and Territorial AIDS Directors (NASTAD), to provide information on the development and implementation of effective syringe services programs for health departments, community-based organizations, and partners. It provides a broad framework for emerging and existing syringe services programs to reduce harms related to injection drug use, ensure needs-based service delivery, and link participants to services that support their health and wellness. Syringe services programs can use the technical package to help guide effective planning and implementation and to identify opportunities for program enhancement.
The document provides five key strategies and approaches for syringe services programs.  Visit the HIV.gov  blog post to learn more about the CDC's technical package on Syringe Service Programs.
In addition,  NASTAD's resource on 'Recommendations for Federal Partners and Health Departments Navigating Naloxone Supply' is available on its website.
ABOUT Kathy Downing
Kathy Downing is the Public Health Digital Library Coordinator for the NNLM Public Health Coordination Office.
Email author View all posts by Kathy Downing