Planning for Dedicated Instruction Sessions for PHDL Program Members
Posted by Cecilia Vernes on August 3rd, 2021 Posted in: Blog, Education and Outreach

---
For all members of the PHDL instruction is included in the program. Both general and dedicated sessions are in the process of being scheduled and if you have not had an opportunity to begin the discussion process, below are questions that come up in the planning process that will help shape your future dedicated sessions.  For the time being, dedicated sessions will be offered online only. We look forward to the opportunity to schedule on-site sessions when restrictions are lifted for university travel and vendors can access organizations to hold training.
Scheduling the date and time of the session or sessions will place a hold in our instruction calendar until it is officially on calendars at your organization. Before each session,  a tech run is scheduled using the same technology that will be delivering the content.
Each organization in our program is unique and may have slightly different needs, audiences, or content requests for a session. Answers to the questions below guide the instruction session planning discussion for your organization or department.
We look forward to working with you and your colleagues in the program and encourage you to contact the NPHCO Education Coordinator listed on our contact page.
Top 10 Questions for Scheduling a Session
Are there particular days and times that tend to be reserved for training or learning and development?
Do you have feedback from your colleagues on the PHDL and their experience with the resources or accessing the materials?
What is your preferred online learning platform or tool at your organization? We use WebEx but also have access to Zoom and MSTeams and can use your organization's preferred tool if it is not on this list.
What is the potential number of attendees of the session? Will this session be open to all staff or will it be more for senior leaders and/or managers or will this be a smaller audience of experts users?
One of the challenges of instruction is presenting to groups with varying levels of engagement with technology. Would you say your organization's staff is diverse in its level of using technology or is it more expert or less advanced?
Are there any working groups or journal clubs that meet at your organization on a regular basis that would be interested in learning how to use the PHDL?
Is there a strategic plan in place or one being created? Has your organization, if qualified, received accreditation from PHAB, or are they up for renewal?
What is your organization's culture of learning and development? Are there Key Performance Indicators (KPI) tied to staff learning?
Are there certain databases in the PHDL collection that you would like demonstrated or featured?
Are there any special topics you would like to focus on during your session(s)?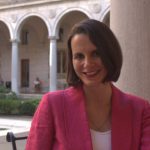 ABOUT Cecilia Vernes
Email author View all posts by Cecilia Vernes