Instructions for the New Find PHDL Button.
Posted by Javier Crespo on January 16th, 2020 Posted in: Blog

---
These instructions tell you how to set up and find PHDL articles in PubMed. They also include document delivery (article ordering) options.
These changes are effective January 2020 and replace previous instructions.
For more information on what this means to you the user see the Check PHDL button post

     Setting up PubMed for the Check PHDL Button

Your PHDL page has a PubMed link set to identify your content. That URL is now https://www.ncbi.nlm.nih.gov/pubmed/?otool=phdlnphco. Your Department should make that link available changing out the old one.
Here's how to set up your My NCBI account to find PHDL articles:
Step 1: Go to PubMed from your PHDL intranet page and click on the upper right-hand corner to "Sign in to NCBI" and sign in.
Step 2: Click on "My NCBI" in the upper right-hand corner of the page.
Step 3: In MyNCBI, click on the link "NCBI Site Preferences" in the upper right corner.
Step 4: Scroll down to "PubMed Preferences" and click on the link for "Outside Tool" (image left)
Step 5: On new page that opens with the A-Z list at the top, click on the letter "P" scroll down to see the listing for the "Public Health Digital Library NPHCO (Worcester, MA) ".
Step 6:  Click on the radio button for your selection and hit the "Save" button.
Once you've set up Outside Tool within MyNCBI Preferences you'll be able to see the Check PHDL button  on every citation when view in Abstract format.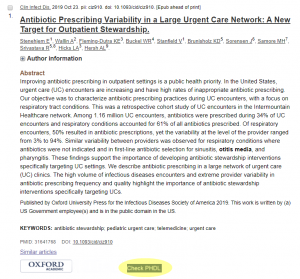 Finding Articles You Want
As you are browsing abstracts and find an article you want to access you can click on the 'Check PHDL' button.  Here you will either: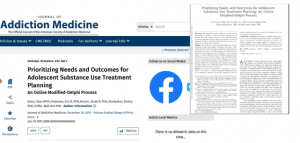 Be taken to the article, directly to a pdf  or through the journal page (left image)
Or
You will be taken to the document delivery option for ordering the article through your Partner Library.  Your options may be
   A document delivery ordering system (such as Illiad) where the form will be filled out with your citation's information (first-timers will need to register first). You'll hit Send to go to the ordering system (image below).
  A prompt to Send the request via your Partner Library's pre-formatted email address. You'll be asked to enter your information; the citation will automatically forward as a request to your Partner Library (image left).
Both full-text and document delivery instances will open another browser so your PubMed session will remain open and viewable.
The old version of finding PHDL articles will not be updated; you'll be able to see it for now but it will be discontinued…it will go away.
Going directly to your article or document delivery request from the Check PHDL button is a function of a tool we've configured and tested.  If you feel something is amiss or have question please contact us at phdl@umassmed.edu.
ABOUT Javier Crespo
Email author View all posts by Javier Crespo