LitCovid, CORD-19, and Data Mining
Posted by Javier Crespo on March 19th, 2020 Posted in: Blog

---
We've highlighted some Coronavirus resources in our post, Coronavirus Disease 2019 Resources.  This post follows up on those resources with the recent initiative to further compile, organize, and make new discoveries of emerging research.
Anyone needing quick access to COVID-19 research literature should use NLM's LitCovid.  LitCovid provides central access to articles in PubMed on the 2019 novel Coronavirus.  The tool makes the research quickly findable by research topics:  overview, disease mechanism, transmission dynamics, treatment, case report, and epidemic forecasting.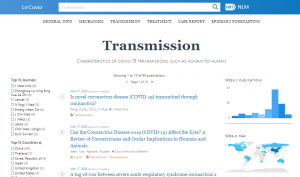 LitCovid is a curated literature hub for tracking up-to-date scientific information about the 2019 novel Coronavirus. It is the most comprehensive resource on the subject, providing access to 1263 (as of March 19 and growing) research articles in PubMed. The articles are updated daily and are further categorized by different research topics and geographic locations.
According to developers, its "aim is to provide timely insight from the scientific literature into the biology of the virus and the diagnosis and management of those infected…LitCovid identifies roughly 35% more relevant articles than do conventional keyword-based searches for entries such as 'COVID-19' or 'nCOV'."
CORD-19
LitCovid is one repository of research information being combined with other datasets into CORD-19, the Covid-19 Open Research Dataset.  CORD-19 is a resource of over 29,000 scholarly articles about COVID-19 and the coronavirus family of viruses for use by the global research community.  The goal of the dataset is to spur the advancement of new insights applying data mining and machine intelligence.  "The corpus will be updated weekly as new research is published in peer-reviewed publications and archival services like bioRxiv, medRxiv, and others."
CORD-19 Challenge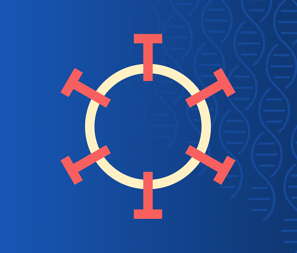 The LitCovid repository is linked to the WHO database, Microsoft Academic Graph, PubMed, and Semantic Scholar resources as a dataset and forum for the CORD-19 Challenge. The COVID-19 Open Research Dataset Challenge is "designed to inspire the community to use the dataset to find new insights about the COVID-19 pandemic including the natural history, transmission, and diagnostics for the virus, management measures at the human-animal interface, lessons from previous epidemiological studies, and more."  The research community can access the dataset, submit tools, and foster discussion and discovery through the Kaggle Platform.
Find the press release announcing the new initiative.
ABOUT Javier Crespo
Email author View all posts by Javier Crespo